'Ralph Breaks The Internet' Teaser Introduces Slaughter Race And Shows Off More Disney Princesses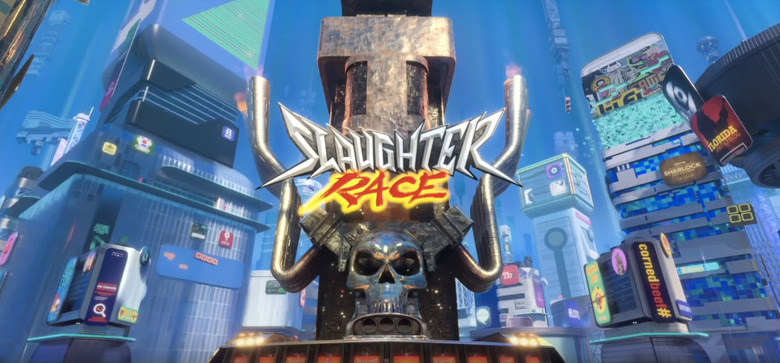 Before the weekend started, we got a look at a new character entering the world of Wreck-It Ralph, a tough street racer named Shank voiced by none other than Gal Gadot. Now Disney wants to show off the Wonder Woman's computer animated alter ego in action with a new Ralph Breaks the Internet teaser that has her racing against none other than the adorably feisty, candy-haired Vanellope von Schweetz (Sarah Silverman) while Ralph (John C. Reilly) uneasily takes the passenger seat.
Watch the Ralph Breaks the Internet Teaser
Now that we know who Gal Gadot is, we get to see what her video game Slaughter Race looks like. Apparently the world of Slaughter Race is set perpetually during dusk, and every character looks like a grimy, street thug who wouldn't be out of place in Sons of Anarchy. So Gal Gadot's character Shank certainly fits the bill.
In the racing sequence we see that Shank is visibly impressed with the driving that Vanellope von Schweetz is doing in Slaughter Race, but Ralph is clearly not on board with the whole deadly competition side of things. He's always been a bit of a coward in that regard.
Meanwhile, we get to see more of Vanellope von Schweetz hanging out with the whole gang of Disney princesses, this time in their casual sleepwear that we saw earlier this week. We get a closer look at some of the shirts we couldn't see, including Moana wearing one that says "Shiny" on it, Sleeping Beauty wearing one that says "Nap Queen" and Merida from Brave wearing one that has a picture of a bear on it with the word "Mum" below it. Plus, you gotta love that she gets mocked for being "from another studio."
Rich Moore (Zootopia, Wreck-It Ralph) and Phil Johnston (Wreck-It Ralph) are co-directing the sequel, which also features the voices of Taraji P. Henson, Jack McBrayer, Jane Lynch and Alan Tudyk.
Ralph Breaks the Internet: Wreck-It Ralph 2 leaves Litwak's video arcade behind, venturing into the uncharted, expansive and thrilling world of the internet—which may or may not survive Ralph's wrecking. Video game bad guy Ralph (voice of John C. Reilly) and fellow misfit Vanellope von Schweetz (voice of Sarah Silverman) must risk it all by traveling to the world wide web in search of a replacement part to save Vanellope's video game, Sugar Rush. In way over their heads, Ralph and Vanellope rely on the citizens of the internet—the netizens—to help navigate their way, including a webite entrepreneur named Yesss (voice of Taraji P. Henson), who is the head algorithm and the heart and soul of trend-making site "BuzzzTube."
Ralph Breaks the Internet: Wreck-It Ralph 2 arrives this fall on November 21, 2018.