The Incredible Rap Battle Comedy 'Bodied' Is Getting A Theatrical Release Later This Year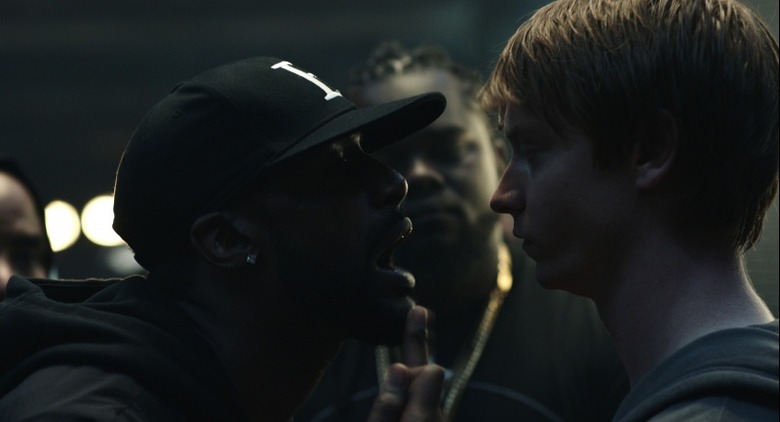 Last year, director Joseph Kahn's Bodied played at a number of film festivals, won a number of audience awards, and then promptly vanished. Earlier this year, it re-emerged with a special screening at the Sundance Film Festival and was acquired by YouTube.
But one of the greatest audience movies you'll ever get a chance to see deserves to be seen, well, with an audience. And now you'll have that chance, because distributor NEON is spearheading a theatrical release for one of the best and wildest movies of 2018.
Collider reports that Bodied will open on November 2, 2018. That release puts it opposite The Nutcracker and the Four Realms and Bohemian Rhapsody, two movies that couldn't be more different from Kahn's molotov cocktail of a film. This isn't just one of the best movies of 2018 – it's the one most likely to leave your brain scrambled as you sort through its blistering blend of satire, commentary, tragedy, anger, and dumb (i.e., great) jokes.
Written by Alex Larsen, Bodied follows a progressive and incredibly white student named Adam (Calum Worthy) who ventures into the world of competitive battle rap to write a college thesis. He soon learns he has a talent for this niche world (one that lives in the margins and collects fans on social media and YouTube) and finds himself under the wing of a mysterious rap maestro named Ben Grymm (Jackie Long). Bridges are burned, good taste is demolished, hard lessons are learned, and political correctness and what it means to be progressive are put under a microscope, dissected, and then lit on fire. Few films this challenging are so much fun to watch.
I saw Bodied at Fantastic Fest last year (read Eric Vespe's review here), where it electrified the audience in ways I have never seen. It took home the festival's audience award. It had already won an audience award at the Toronto International Film Festival (where it premiered) and it would go on to win an audience award at AFI Fest. That's why it's a shame to think of people only watching this movie on YouTube via their computers. It screams for a crowd.
So the news that NEON (the distributor behind Revenge, Three Identical Strangers, and Ingrid Goes West) is overseeing a theatrical release is welcome news. It's not clear how wide the release will be just yet, but I imagine it will a limited run in boutique theaters. That's a bit of a shame, but at least audiences will have a chance to seek this one out in the proper setting. And trust me: you'll want to seek this one out because you're going to want to talk about it. And then see it again.