'Avengers: Infinity War' Gag Reel Will Make You Feel So Good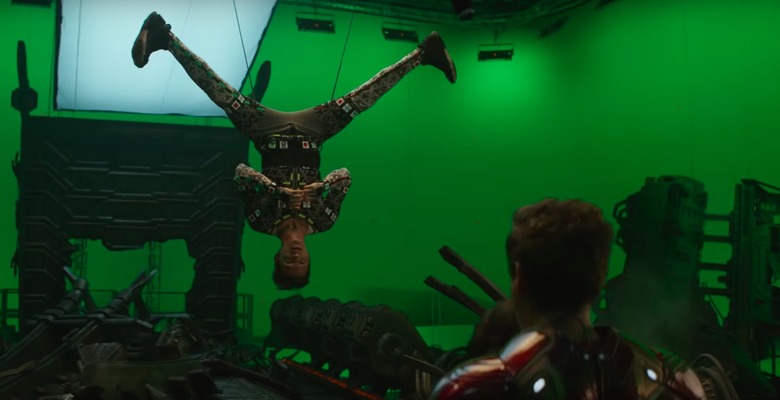 If the end of Avengers: Infinity War left you not feeling so good, at least you'll have this delightful if brief gag reel to revive you from your misery. Dropped on the interwebs ahead of the Marvel film's upcoming Blu-ray release, the Avengers: Infinity War gag reel will help you laugh the pain away and maybe even make you consider buying a wind machine.
Avengers Infinity War Gag Reel
"Because you're worth it," Scarlett Johansson jokes during the 40-second gag reel for Avengers: Infinity War. And while she's poking fun at the wind machine that blows her hair in her face like it's a L'Oreal commercial, truer words have never been spoken in regards to this blooper reel.
It's a truncated gag reel — the full-length version of which we'll likely get to see on the Avengers: Infinity War Blu-ray — but it's chock full of the superstar cast fooling around and flubbing their lines. Naturally, we start with Benedict Wong pulling a face at the camera, then we move onto a montage of line goofs and behind-the-scenes peeks at the super suits before VFX. But mostly, the reason for everyone's flubs seem to be wind machines and bad wigs.
The gag reel is just one of many featurettes that will be made available the Blu-ray arriving later this month. For its home media release, Target has a special 4K UHD Blu-ray edition and Best Buy will offer a collectible 4K UHD Blu-Ray steelbook. The 4K Cinematic Universe Edition will feature "never-before-seen bonus material" that gives behind-the-scenes access to the Marvel Cinematic Universe cast members, explanations behind some of the unexpected on-screen pairings, and memorable moments at the characters' first meetings. Other featurettes also include an explainer on Thanos and the six Infinity Stones and a dive into the massive battle in Wakanda. And of course, there will be deleted scenes and directors Anthony and Joe Russo's commentary.
Avengers: Infinity War is now available for purchase digitally and arrives on Blu-ray on August 14, 2018.