Emily Blunt Flies Through A Practically Perfect Dance Number In New 'Mary Poppins Returns' Image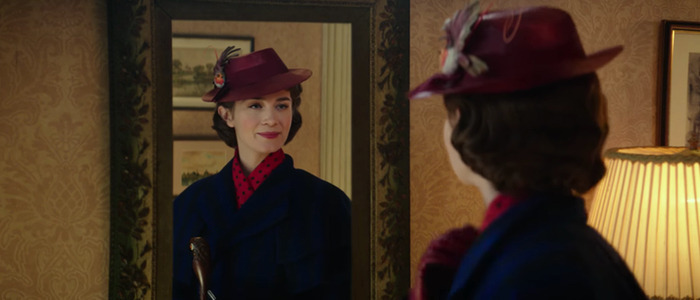 The 1964 Mary Poppins was practically perfect in every way. From the songs to the dance sequences to the immeasurable Julie Andrews, the original Mary Poppins deserves its place as one of the greatest movie musicals of all time.
So director Rob Marshall and star Emily Blunt have quite a task on their hands with the highly anticipated sequel Mary Poppins Returns. Could this sequel live up to the original's candy-coated fever dream? The ominous first trailer didn't seem to indicate as much, but a new Mary Poppins Returns image suggests that the sequel will still be the cheery and whimsical Mary Poppins that we remember.
Mary Poppins Returns Image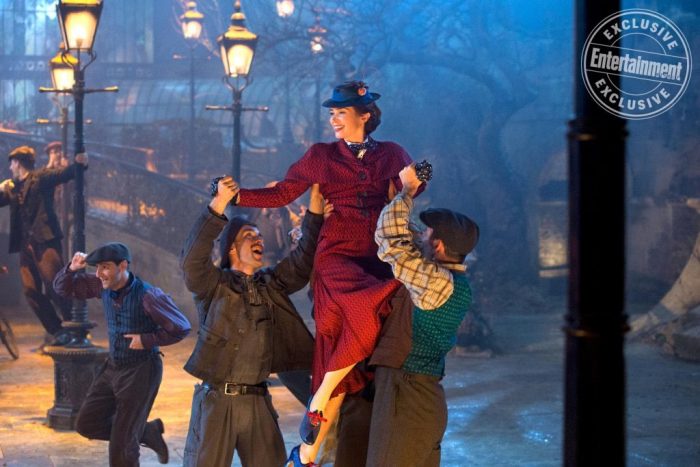 Set some 25-odd years after the first film, Mary Poppins Returns brings us back to Cherry Tree Lane, where a grown-up Michael (Ben Whishaw), his three children, and his sister Jane (Emily Mortimer) mourn the death of a family member. But like a fairy godmother descended from the heavens, Mary Poppins (Blunt) suddenly appears with her trusty umbrella to remind the family how to embrace life once again — and how to dance.
The new image from Mary Poppins Returns has been revealed courtesy of Entertainment Weekly, and depicts Blunt in the middle of a show-stopping number with the lamplighters of London. There's no sign of Lin-Manuel Miranda's lamplighter Jack, though I'm sure he's lurking around somewhere. It's a wonderfully delightful image that recalls the classic dance sequences of the first film, though Marshall assures EW that he would never in his dreams try to one-up the original. "There's never been a moment when I've felt like I want to in any way re-do the original," he said. "But can we continue the tradition of that storytelling with our own cast, with our own world, with our own sensibility? There's so much more story to tell, and it's because the character's so great."
And Blunt's Mary Poppins will not just be a rehash of Andrews' Oscar-winning performance. Blunt takes her inspiration from P. L. Travers Mary Poppins' novels as well as the classic screwball comedy His Girl Friday.
"She's just such fun to play," she told EW. I'm so different from this character, but I do know a lot of people like her, so it does feel familiar. The dancing is the thing I really had to learn. Lin and I are not trained dancers in any way, so that was the most arduous part. You see why dancers have the best bodies on planet Earth. You just pour with sweat all day."
Mary Poppins Returns will open on December 19, 2018.
"Mary Poppins Returns" stars: Emily Blunt as the practically-perfect nanny with unique magical skills who can turn any task into an unforgettable, fantastic adventure; Lin-Manuel Miranda as her friend Jack, an optimistic street lamplighter who helps bring light—and life—to the streets of London; Ben Whishaw as Michael Banks; Emily Mortimer as Jane Banks; and Julie Walters as the Banks' housekeeper Ellen; with Colin Firth as Fidelity Fiduciary Bank's William Weatherall Wilkins; and Meryl Streep as Mary's eccentric cousin, Topsy. The film also introduces three new Banks' children played by Pixie Davies, Nathanael Saleh and newcomer Joel Dawson. Angela Lansbury appears as the Balloon Lady, a treasured character from the PL Travers books and Dick Van Dyke is Mr. Dawes Jr., the retired chairman of the bank now run by Firth's character.