'Dora The Explorer' First Look At A Grown-Up Dora Reminds You That Yep, This Movie Is Happening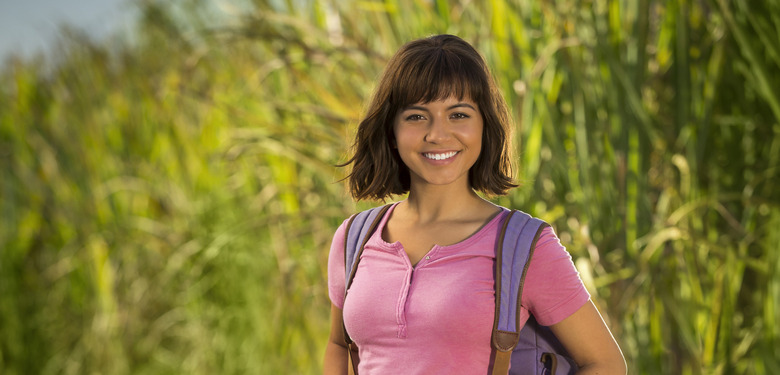 Remember the Dora the Explorer movie starring Isabela Moner as the grown-up bilingual kid explorer? It's still happening. And we even have a first look at Moner with the classic bob cut and clad in the iconic pink shirt and orange shorts. And the only thing more baffling than the fact that this movie does indeed exist is the fact that Dora apparently has Mamma Mia: Here We Go Again syndrome and has not changed her hairstyle or outfit since she was 7 years old.
Dora the Explorer First Look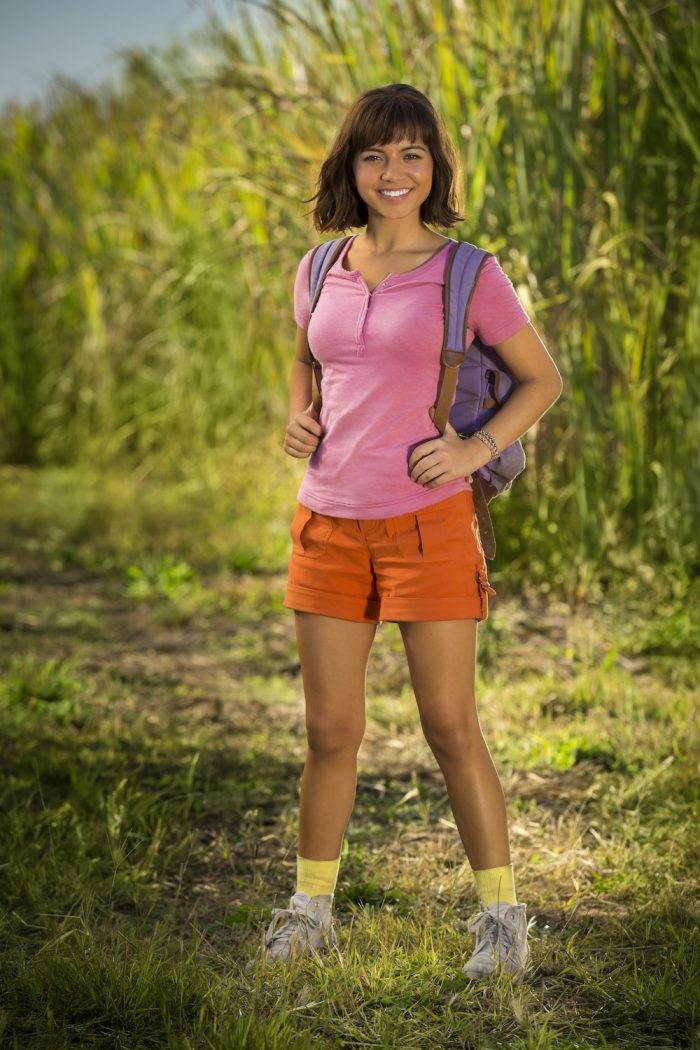 No matter how you say it, a Dora the Explorer movie always sounds like a joke. Maybe because the concept has been the subject of parody in the past, with a 2012 CollegeHumor skit starring Ariel Winter as a "gritty" and "sexy" version of the cartoon explorer. And now, even with Moner rocking tousled hair and a slightly more realistic outfit, I can't help but think that this Dora the Explorer movie will somehow turn out exactly like the parody that preceded it.
But Moner, who stole the scenes in Transformers: The Last Knight and Sicario: Day of the Soldado, is a promising rising actress who could potentially elevate this movie beyond its bewildering premise. She will be starring opposite Mexican superstar Eugenio Derbez in an adaptation that takes Dora on her "most dangerous adventure yet — high school."
Here is Paramount's official synopsis for Dora the Explorer:
Having spent most of her life exploring the jungle with her parents nothing could prepare Dora for the most dangerous adventure ever – High School. Always the explorer, Dora quickly finds herself leading Boots (her best friend, a monkey), Diego, and a rag tag group of teens on a live-action adventure to save her parents and solve the impossible mystery behind a lost Inca civilization.
Derbez plays Alejandro, a mysterious jungle inhabitant who tries to protect the ragtag teenagers from the marauders. The cast also includes Micke Moreno (Escobar: Paradise Lost), in the role of cousin Diego; Nicholas Coombe (Midnight Sun) as Randy, a fellow high schooler who develops an immediate crush on Dora; Madeleine Madden (Picnic at Hanging Rock) as the school's snooty class president, Sammy; and Adriana Barraza (Babel) as Dora's grandma, Abuelita Valerie. Temuera Morrison (Green Lantern) also stars as Powell.
The Muppets director James Bobin helms the live-action adaptation, which is set to hit theaters on August 2, 2019.