Theme Park Bits: Universal Ride Rumors, Halloween Horror Nights Behind-The-Scenes, New Reese's Attraction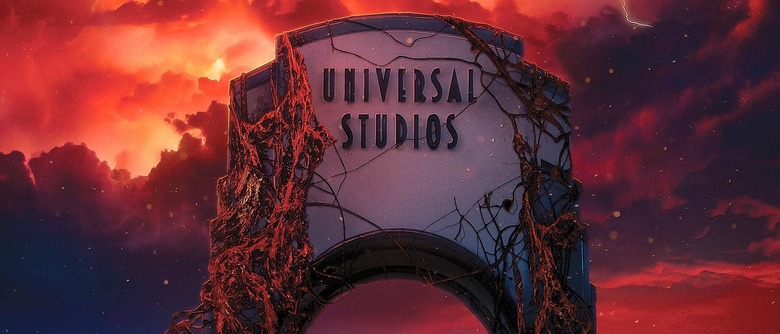 In this edition of Theme Park Bits:
How is Universal Orlando's heavily rumored fourth park affecting ride plans at its other parks?
Go behind-the-scenes at Halloween Horror Nights to see how the annual scare-fest comes together.
Get some cool new details on the Cars attraction coming to Disney's Hollywood Studios.
A new moving floor technology in the works at Disney might soon make VR treadmills a viable thing.
That revamped Reese's Peanut Butter Cup ride you've been waiting for is finally here.
And more!
With a fourth Universal Orlando park being all-but-confirmed now, ride rumors at the resort have undergone a shakeup as of late. In the video above, you can hear the latest rumblings on what's in store for the slate of attractions at Universal Studios Florida, including the future (or lack thereof) of Fear Factor Live, Shrek 4-D, and Woody Woodpecker KidZone. There's also some insight as to where Super Nintendo World and Harry Potter's Ministry of Magic as well a potential Secret Life of Pets dark ride and Jason Bourne stunt show might go.
If you've ever wondered how Halloween Horror Nights is put together at Universal Studios, the above video gives a behind-the-scenes look at the design process, from the creation of 3-D digital models to the building of immersive, 360-degree environments with special effects and scare-actors.
In case you missed it, Poltergeist is coming to Halloween Horror Nights and there's also a new piece of art from Stranger Things illustrator Kyle Lambert teasing this year's maze from that show.
PHOTOS: Halloween 2018 Merchandise Has Arrived at Walt Disney Worldhttps://t.co/QdHJhH9eB9 pic.twitter.com/SuKU5dAzzF

— WDW News Today (@WDWNT) August 10, 2018
New 2018 Halloween merchandise is now available at Walt Disney World and on shopDisney.com.
The Disney character Orange Bird will grace his own exclusive Sorcerers of the Magic Kingdom card this year during Mickey's Not-So-Scary Halloween Party.WDW News Today reports that the name Shutters has been, well, shuttered and the new waterfront restaurant at Disney's Caribbean Beach Resort will instead be named after Sebastian, the reggae crab from The Little Mermaid.
Disney's Hollywood Studios is reportedly building a huge race simulator for the new show Lightning McQueen's Racing Academy, which debuts next year in the Sunset Showcase Theater. As WDW News Today notes, this will bring to life a movie scene from Cars 3, giving the show an element that takes it beyond the current model of other shows where characters are merely trotted out on stage for a quick posing session.
Disney's newest patent indicates that it is developing a moving floor technology to simulate walking and enhance VR attractions like The VOID at Disney Springs.
The former AMC Theater building in Downtown Disney Anaheim has suddenly sprouted colorful banners, lanterns, plants, tables and chairs. #Disneyland pic.twitter.com/yk4wAk2mTN

— LaughingPlace.com (@laughing_place) July 27, 2018
In Downtown Disney, the building once inhabited by AMC Theatres is showing some new signs of decorative life.
Tokyo Disney Resort recently debuted two new stage shows and a new nighttime castle projection show as part of its 35th-anniversary celebration. Now comes news that it will be premiering a new Christmas stage show this year, as well.
Reese's Cupfusion combines the world's love of chocolate & peanut butter with a new dark ride gaming experience for Summer 2019! Hear from Commander Cup herself and learn more at https://t.co/Jygolo6iO4. #Hersheypark2019 pic.twitter.com/3vcHguZZsu

— Hersheypark (@Hersheypark) August 2, 2018
Are you ravenous for Reese's? If old commercials are to be believed, then even vampires like Count Dracula love sinking their fangs into Reese's Peanut Butter Cups, sucking out all the peanut butter before consuming the chocolate. "There's no wrong way to eat a Reese's."
Personally, Reese's was always my favorite candy, not to mention the top-selling candy brand in the U.S. Clearly, others crave the mushy perfection of those peanut butter cups. Now there's an attraction called Reese's Cupfusion coming to Hersheypark in Pennsylvania. The ride is a revamp of the Reese's Xtreme Cup Challenge shooting ride.