'Halloween' Premiering In TIFF's Midnight Madness Line-Up, 'The Predator' Is Coming Too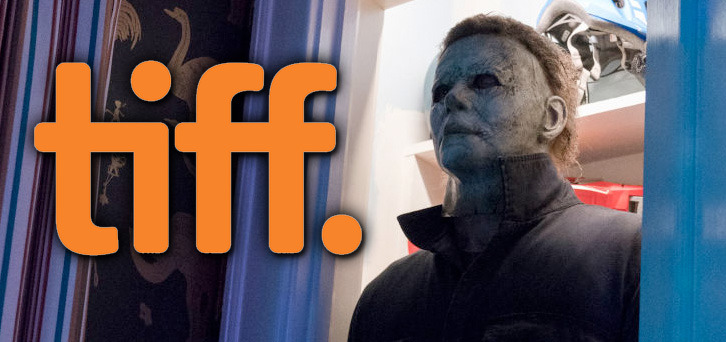 The Toronto International Film Festival is still a month away, but we're already excited for the film line-up set to play in our neighbor to the North. We already know A Star Is Born, First Man, Beautiful Boy, Widows and If Beale Street Could Talk will be premiering at the festival among many others, but now the Midnight Madness line-up promises big premieres to spice things up.
David Gordon Green's slate-cleaning Halloween sequel will hold its world premiere at the film festival, and Shane Black's The Predator will also be debuting up in Canada, too.
On top of that, there are some high profile documentaries coming to the fest, including Michael Moore's Donald Trump-centric doc Fahrenheit 11/9, Rashida Jones' film about her music icon father Quincy Jones, and Werner Herzog's Meeting Gorbachev.
Find out about all the latest TIFF additions below.
The fact that Halloween is premiering at TIFF, a whole month before it's slated to hit theaters in October, means Universal Pictures is confident in the sequel that David Gordon Green has delivered with original Halloween star Jamie Lee Curtis. This is a film we've been excited about ever since it was announced and it became even more anticipated after some astounding and chilling new footage was shown at San Diego Comic-Con last month. We'll definitely have a review of this one from TIFF.
Meanwhile, The Predator will also bring some flair from the past with a premiere at TIFF. It will be the first film to screen from the Midnight Madness section. Fans seem to be a little less certain that director Shane Black will deliver something on par with the original Predator, especially with the amped-up comedy that was on display in footage that played at San Diego Comic-Con last month. But maybe it's just hard to get a grasp on how the film will work as a whole with the footage we've seen so far.
Peter Kuplowsky, Midnight Madness Programmer, released this official statement:
"This year's Midnight Madness slate promises another idiosyncratic confluence of established and emerging genre filmmakers," said . To complement some of the buzziest provocations on the festival circuit, I have sought to curate an eccentric array of World Premieres that demonstrate the dexterity of genre cinema as a canvas for both sublime satisfaction and stunning subversion. That includes the section's two much-anticipated sequels, 'The Predator' and 'Halloween,' each of which boldly and brilliantly builds upon its mythic iconography to thrilling and surprising effect."
As for the documentary line-up, there's plenty to look forward to as well. "TIFF Docs contains multiple titles poised to become the next non-fiction hits after a summer of box-office breakouts," said TIFF Docs Programmer Thom Powers. "Beyond the well-known directors in the lineup, look out for newer talents that will take audiences by surprise."
The Toronto International Film Festival runs September 6 – September 16 in Toronto, Canada. Here's the full roster of films in the Midnight Madness and TIFF Docs sections that will play there:
Midnight Madness
"Assassination Nation," Sam Levinson, USA, Canadian Premiere
"Climax," Gaspar Noé, France, North American Premiere
"Diamantino," Gabriel Abrantes, Daniel Schmidt, Portugal/France/Brazil, North American Premiere Midnight Madness Closing Film
"Halloween, David Gordon Green, USA, World Premiere
"In Fabric," Peter Strickland, UK, World Premiere
"The Man Who Feels No Pain," Vasan Bala, India, World Premiere
"Nekrotronic," Kiah Roache-Turner, Australia, World Premiere
"The Predator," Shane Black, USA, World Premiere Midnight Madness Opening Films
"The Standoff at Sparrow Creek," Henry Dunham, USA, World Premiere
"The Wind," Emma Tammi, USA, World Premiere
TIFF Docs
"American Dharma," Errol Morris, USA/United Kingdom, North American Premiere
"Angels Are Made Of Light," James Longley, USA/Denmark/Norway, Canadian Premiere
"The Biggest Little Farm," John Chester, USA, International Premiere
"Divide and Conquer: The Story of Roger Ailes," Alexis Bloom, USA, World Premiere
"The Elephant Queen," Victoria Stone, Mark Deeble, United Kingdom/Kenya, World Premiere
"Fahrenheit 11/9," Michael Moore, USA, World Premiere TIFF Docs Opening Film
"Free Solo," E. Chai Vasarhelyi, Jimmy Chin, USA, International Premiere
"Freedom Fields," Naziha Arebi, Libya/United Kingdom/Netherlands/USA/Qatar/Lebanon/Canada, World Premiere
"Ghost Fleet," Shannon Service, Jeffrey Waldron, USA, International Premiere
"Graves Without a Name (Les tombeaux sans noms)," Rithy Panh, France/Cambodi, Canadian Premiere
"Heartbound (Hjertelandet)," Janus Metz, Sine Plambech, Denmark/Netherlands/Sweden, World Premiere
"Maiden," Alex Holmes, United Kingdom, World Premiere
"Maria by Callas," Tom Volf, France, North American Premiere
"Meeting Gorbachev," Werner Herzog, André Singer, United Kingdom/USA/Germany, Canadian Premiere
"Monrovia, Indiana," Frederick Wiseman, USA, North American Premiere
"Putin's Witnesses (Svideteli Putina)," Vitaly Mansky, Latvia/Switzerland/Czech Republic, International Premiere
"Quincy," Rashida Jones, Alan Hicks, USA, World Premiere
"Screwball," Billy Corben, USA, World Premiere
"Searching for Ingmar Bergman," Margarethe von Trotta, Germany/France, North American Premiere TIFF Docs Closing Film
"This Changes Everything," Tom Donahue, USA, World Premiere
"The Truth About Killer Robots," Maxim Pozdorovkin, USA, World Premiere
"Walking on Water," Andrey Paounov, Italy/USA, North American Premiere
"When Arabs Danced (Au temps où les Arabes dansaient)," Jawad Rhalib, Belgium, North American Premiere
"Women Make Film: A New Road Movie Through Cinema," Mark Cousins, United Kingdom, North American Premiere