'Disenchantment' Early Buzz: Matt Groening's Fantasy Send-Up Lacks Magic But Has Potential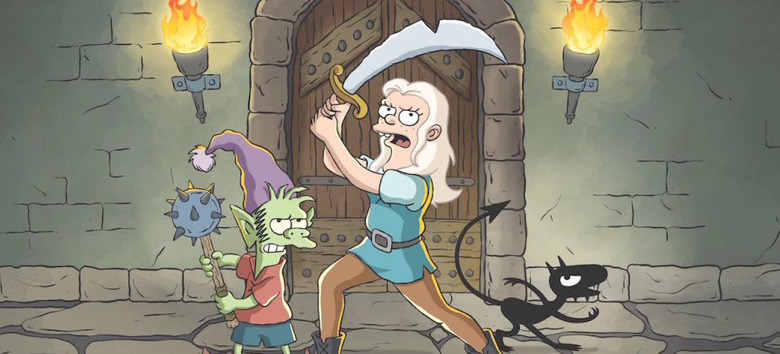 After diving into suburban family life and the distant future with The Simpsons and Futurama, animation icon Matt Groening is bringing his trademark humor into the distant past with his fantasy comedy series Disenchantment on Netflix. But does Groening, whose shows have lost their bite in later seasons, even for longtime fans, have what it takes to head into new territory and create something refreshing? Or are we looking at a similar run of jokes in a premise that isn't quite living up to its potential?
The first Disenchantment reviews are in, and while many of them see potential in the episodes sent out to critics ahead of the show's premiere, more of them think the show lacks fresh comedy and appears to be missing something that made Matt Groeninig's previous efforts so memorable and enjoyable. However, there are those who think the show eventually finds its footing and will come into its own, just as The Simpsons and Futurama did.
For those who may not be familiar with Disenchantment yet, here's the official synopsis:
From the mind of Matt Groening, comes the 10-episode adult animated comedy fantasy series, Disenchantment, launching on Netflix, August 17, 2018. In Disenchantment, viewers will be whisked away to the crumbling medieval kingdom of Dreamland, where they will follow the misadventures of hard-drinking young princess Bean, her feisty elf companion Elfo, and her personal demon Luci. Along the way, the oddball trio will encounter ogres, sprites, harpies, imps, trolls, walruses, and lots of human fools.
Darren Franich at Entertainment Weekly didn't find a lot to love, saying:
"The vibe is like one of the wilder "Treehouse of Horror" segments, the kind where the big joke is how many grotesque ways Simpsons characters can die. In the first episode, Bean declares that she wants to escape her family, strike out in a new direction away from the royal role she's forced to play. That might be where the show's going, but the early episodes are all stuck in Dreamland. Pretty soon you want to leave, too."
Stuart Heritage at The Guardian is more forgiving, but acknowledges the show hasn't really found itself yet:
"The good news is that Groening's new animated Netflix series, Disenchantment, may grow into itself before long. The bad news is that it isn't there yet.
The first run of episodes is fine, but let's treat them as a pipe-clearing exercise. Soon enough, the writers will start writing for the performers, the characters will start to pop, the show will lose its compulsion to push buttons for the sake of it (the opening 15 minutes alone feature fistfights, stabbing, heavy petting, hanging and two separate peeping Tom incidents) and it wll settle into something special. There is promise in Disenchantment, but we will have to wait for it to be realised."
Sam Mechkovech at Ars Technica says the movie is off to a "bloody good start" and likes the show's set-up:
"Though this intro hints to a world-spanning, new-realm-every-episode adventure in which Bean and her friends stay one step ahead of her father's pursuing guards, the show quickly switches gears and returns to Dreamland. Yet this actually works out fine for the series, as Dreamland is rich with comedic opportunities, whether sourced from Zog's slave-filled castle or the nearby, poverty-wrecked village. And should the cast need a comedic jumpstart, there's always a wild mini-universe one short boat or horse ride away; in the first seven episodes alone, we stumble upon a nunnery, a swamp kingdom, and a psychedelic hookah lounge."
Andrew Mack at Screen Anarchy also sees potential in the series, but isn't in love with the first episodes:
"Disenchantment appears to have the same growing pains that its predecessors did. Both of the previous Groening shows needed time to find their footing and through the first seven episodes it still is not clear what Groening plans to do with his central lead.
Hope lies in the past. Just as Disenchantment's predecessors became great shows in their own time so do we hope Disenchantmnent achieves the same. It has all of the trademarks of a quality Groening production. Now we wait for the landmarks."
Alex Maidy at JoBlo wasn't impressed with Disenchantment either, writing:
"There is more that does not work on Disenchantment than does. The pacing feels off with the lack of commercial breaks very noticeable. There were at least four instances in the first episode alone of lingering establishing shots of landscape or castles that went on for at least a few seconds longer than necessary. There are also numerous instances where a character falls down or a slapstick gag is followed by no background sound or musical score. This could be due to the screeners presented not having a fully completed soundtrack, but there was no disclaimer from the studio. The entire production feels like it is lacking the same energy that makes Groening's other shows feel so lively and biting. Instead, I found myself really only laughing at a select few jokes in each episode."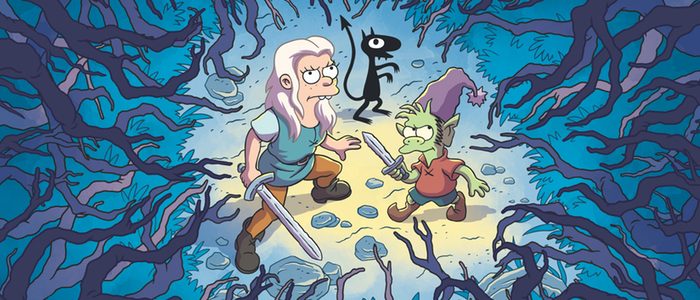 Jonathan Pile at Empire says the show is slow to start, but he thinks it eventually found its footing:
"Disenchantment does suffer from a worryingly uneven start, though. While gags come thick and fast, ones that land successfully are alarmingly less common. It stumbles as it attempts to both set up its characters and race through the plot machinations needed to bring them all together. But it does pick up. With the status quo established, and the characters able to play off each other, the hit rate increases, and by the time Bean is hosting an illicit kegger after poisoning the king to get him out of the castle, the writing has sharpened and the unease faded."
Danette Chavez at The AV Club thinks the cast saves the show from mediocrity:
"Although Disenchantment struggles to balance its episodic and serialized storytelling in the first seven episodes, it's already found alchemy in its cast...Despite some snarls, we do find ourselves caring and rooting for this defiant teen, wayward elf, and conflicted demon, and it's thanks in great part to the cast. Disenchantment has the potential to become as engrossing an updated fairy tale as it is a debauched one, without choosing between one-offs and longer arcs. And with such an excellent trio leading the way, it won't even need to resort to magic."
Samantha Nelson at The Verge says the show starts off feeling like Futurama but can't match the quality:
"Sticking to Futurama's formula would be fine if Disenchantment also replicated its quality. Futurama poked fun not only at science fiction tropes, but at politics and capitalism, while also delivering some genuinely emotional stories. Nothing in the first seven episodes of Disenchantment has that power or bite. Groening and his team just don't seem to have a good grounding in fantasy tropes or history in the same way they're grounded in mainstream social issues. Aside from some Game of Thrones-inspired jokes in the first episode, the humor mostly hearkens back to Monty Python, with gags about medieval life, its abundant plagues, and its lack of child labor laws. One of the more fantasy-driven episodes presents a spin on the Hansel and Gretel fairy tale, but it doesn't deliver anything besides tired German stereotypes and Hannibal Lecter jokes."
Merill Barr at Forbes says if you don't like The Simpsons nowadays or the later episodes of Futurama, you won't find much to like about Disenchantment:
"No-one should be going into this one thinking it's going to be Groening with the gloves off just because it's on Netflix. Instead, what the series will make everyone realize is Groening has never had the gloves on, to begin with. If you're a fan of the kind of humor and style we've come to expect from The Simpsons and Futurama, then you're going to be a fan of Disenchantment. It's as simple as that.
But, if you're one of those hipster fans that proclaimed The Simpsons hasn't been good since the '90s and Futurama lost itself after moving to Comedy Central, maybe you should head elsewhere."
Finally, Adam Starkey at Metro adds to the criticism of mediocrity:
"Of course, it's common for animated shows to struggle in their first season. Bojack Horseman and even The Simpsons didn't really find their identity until their second and third outings, so we're hopeful Disenchantment can salvage the best bits, like guest characters Matt Berry's obnoxious prince and Noel Fielding's warmly bleak executioner, for something more focussed and special in the future.
Disenchantment, while wonderful to look at, is missing a soul which runs through Matt Groening's best works. In a world of hyper-kinetic rivals like Adventure Time and Rick And Morty, this Netflix series is too reserved and inconsistent to be a satirical fantasy worth exploring."
***
Your mileage may vary depending on how forgiving you are of the later seasons of both The Simpsons and Futurama, but overall it sounds like Matt Groening is too tame to really take advantage of Netflix's lack of restrictions to make a satisfying fantasy send-up that isn't just a rehash of Monty Python jokes and gags that we've seen plenty of times before in hisaforementioned animated efforts. But maybe you'll feel different after watching the show yourself.
Disenchantment arrives on Netflix on August 17, 2018. You can watch the trailer here.