'Poltergeist' Is Coming To Universal Halloween Horror Nights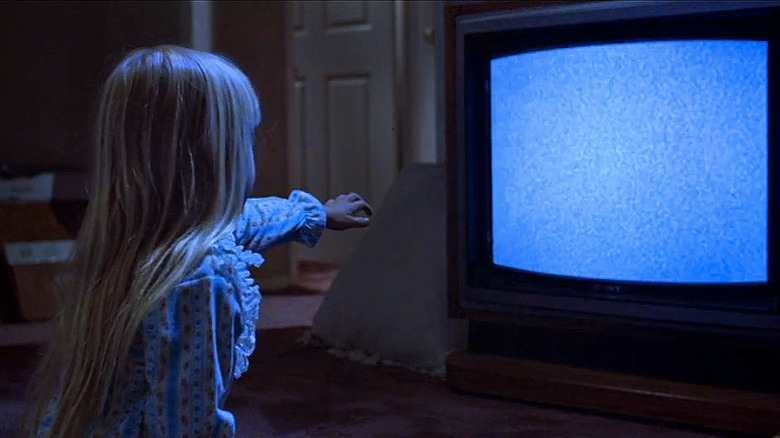 They're heeere: Poltergeist is finally coming to Universal's Halloween Horror Nights. The popular annual event at the Universal Studios theme park has been paying tribute to classic horror movies with elaborate mazes since it was first launched in 1991, and yet it had never yet gotten around to Tobe Hooper's iconic 1982 film. Until now.
Poltergeist at Universal Halloween Horror Nights
Universal Studios Hollywood and Universal Orlando Resort announced that they are bringing Halloween Horror Nights guests "into the light" with new mazes inspired by the seminal supernatural horror film, Poltergeist.
Here is Universal's description of the new mazes inspired by the classic film directed by Hooper and produced by Steven Spielberg:
The mazes will lure guests to the Freeling family house built atop a cemetery where malicious ghosts threaten the lives within. From the underground graveyard to ghostly apparitions, guests will come face to face with infamous scenes from the film, including the iconic flickering TV screen, menacing Beast from beyond and pool filled with floating corpses. As guests cross into the 'light,' they will find themselves surrounded by a surreal landscape of vanishing walls, floating furniture and a creepy clown with a menacing smile. In a rush against time, guests will be forced to make it back to the world of the living or forever be trapped...
Poltergeist told the tale of a typical suburban family who find themselves inexplicably terrorized by a cabal of malicious ghosts. But it's not the plot that the horror film is remembered for — it's Heather O'Rourke's chilling delivery of "They're heeere" by the light of a flickering TV, a scene which nearly every person is probably familiar with through pop culture osmosis even if they haven't seen the movie. Expect to see lots of televisions illuminating dark corridors in this maze.
The annual horror-fest has paid homage to countless classic horror films, from The Shining to Child's Play, Nightmare on Elm Street, The Purge, and of course, Halloween with increasingly elaborate props and sets.
Last year, horror fans were attacked by a terrifyingly life-like Jack Torrance and fended off a chainsaw-wielding Jason Voorhees throughout seven mazes, three scare zones, and the Terror Tram. This year, guests can look forward to not just Poltergeist-inspired mazes but a trip to the Upside Down with a Stranger Things-themed event.
Halloween Horror Nights begins Friday, September 14, 2018 in Hollywood and Orlando and on Friday, September 28, 2018 in Singapore. Additional details will be revealed soon. All tickets and vacation packages are on sale now and are available at HalloweenHorrorNights.com.