'The Innocents' Trailer: Teen Romance Gets A Shape-Shifting Twist In Netflix Series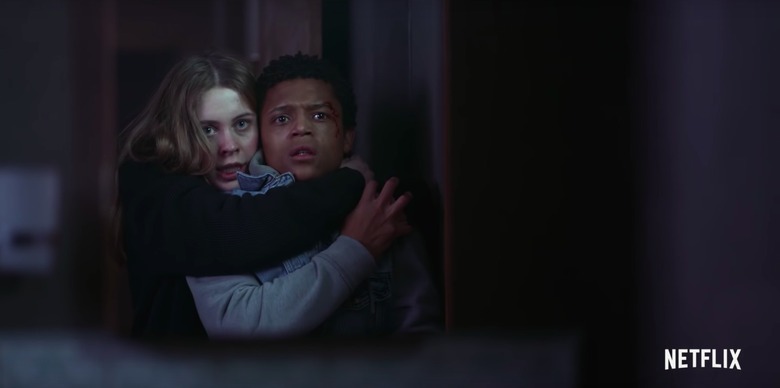 The wait for Stranger Things season 3 has been extended another year, but we can do more than just twiddle our thumbs while waiting for Netflix's flagship supernatural series. Because an intriguing new British shape-shifter series coming later this month may just fill all our Stranger needs. But with a dash of teen romance thrown in. And Guy Pearce!
The Innocents is a British supernatural series that follows a teen runaway named June (Sorcha Groundsell) who discovers that she has a genetic ability to shape-shift. Terrified and confused, she and her fellow runaway Harry (Percelle Ascott) try to make sense of this strange new power and fend off the shifty figures — all while figuring out their blossoming feelings for each other. But the first The Innocents trailer suggests that this is less a Twilight knock-off than a thematic cousin to Netflix's own horror-tinged Stranger Things.
The Innocents Trailer
Created and written by Hania Elkington and Simon Duric, The Innocents is an intriguing new Netflix original that is served well by its eerie trailer. Though the teen romance is a strong element, it's not the focal point of The Innocents trailer, which delivers a fair amount of disturbing human experiments, creepy shape-shifting agents, and Guy Pearce in glasses. Pearce plays Halvorson, a mysterious professor who promises to cure her, but may have more sinister motivations than he lets on (of course he does, he's Guy Pearce).
The cast is rounded out by Jóhannes Hauker Jóhannesson, Laura Birn, Sam Hazeldine, Lise Risom Olsen, Trond Fausa, and Ingunn Beate Øyen.
Farren Blackburn, who executive produces alongside Elaine Pyke, Charlie Pattinson, and Willow Grylls of New Pictures, directed six of the eight episodes.
Here is the official synopsis for The Innocents
When teenagers Harry and June run away from their repressive families to be together, they're derailed by an extraordinary discovery – June's ability to shape-shift. As the star-crossed lovers struggle to control this strange new power, a mysterious professor reveals that June is not alone: there are more shifters out there like her, and he promises to cure June and reunite her with the mother who deserted her three years ago. But as their journey becomes increasingly fraught with danger, Harry and June's love for each other is tested to breaking point and they're faced with a choice: keep their innocent dream alive, or embrace that their lives have changed and risk everything.
The Innocents premieres on Netflix on August 24, 2018.