'The Goldbergs' Will Take On 'Sixteen Candles,' Won't Say No To Some Rock Star Cameos [TCA 2018]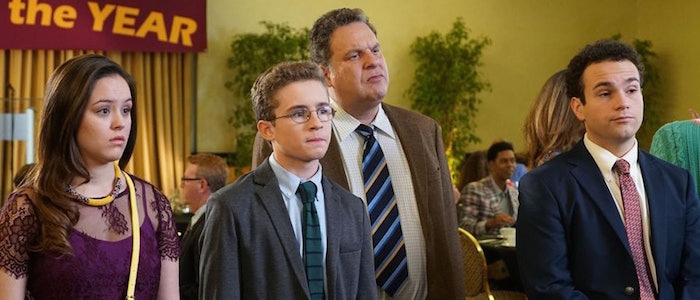 The Goldbergs stars Sean Giambrone and Hayley Orrantia were at the ABC party for the Television Critics Association this week. The comedy, based on creator Adam F. Goldberg's life, is entering its sixth season in September.
Season 5 ended with Erica (Orrantia) dropping out of college to pursue singing and Adam (Giambrone) helping Barry (Troy Gentile) get prom cancelled. And now, season 6 will pay tribute to an iconic John Hughes movie: Sixteen Candles.
The Goldbergs Do Sixteen Candles
This won't be the show's first John Hughes homage. They paid tribute to Weird Science and Ferris Bueller's Day Off before, but Adam is turning 16 on the show. Sixteen Candles was Samantha Baker's (Molly Ringwald) nightmare birthday, but Giambrone says it works just as well with a boy.
"The situation that happens can be for either gender," Giambrone said. "It is a girl in the movie, but it can happen to the boy."
Sixteen Candles begins with the whole Baker family forgetting Samantha's birthday. One thing we know for sure is Beverly Goldberg (Wendi McLendon-Covey) would never forget a birthday.
"She wouldn't forget a birthday, especially one of her schmoopies," Giambrone said.
However, Orrantia hinted that Beverly could make the same mistake Samantha Baker's mom did.
"Well, she might this season," Orrantia.
If this actually happened to Adam F. Goldberg, he'd probably love it because he'd be living in a John Hughes movie. Giambrone said Goldberg had not shared the details of his actual 16th birthday with him.
"There's always a video at the end of each episode and so there will be a video of his 16th birthday," Giambrone said. "I'll find out with everybody else."
Orrantia advised viewers to be on the lookout for Sixteen Candles details that aren't the most famous references from the movie.
"There's so many little details throughout the show where they tie it in as Adam does," she said. "There's definitely going to be the 16th birthday party that goes awry. I'm excited to have the audience see all those little things and the little details that people may have overlooked in the movie that we really touch on in the episode."
Rock Star Cameos
As far as we know, Adam F. Goldberg is not related to any famous rock stars either, so Erica's story is also an embellishment. Orrantia is a singer, so it makes sense to take advantage of her talents. It also allows famous '80s rock stars to cameo on The Goldbergs.
"There's definitely going to be music still incorporated and from what I hear, possibly some guest appearances from other well known musician maybes," Orrantia said. "I love getting to juggle music and acting on this show, so we'll see what happens."
The show has avoided having too many guest stars from the '80s. Weird Al Yankovic made an appearance, Charlie Sheen reprised his Ferris Bueller role, and Rick Moranis provided the voice of Dark Helmet from Spaceballs. They may make exceptions for rock stars though.
"A lot of times they don't have a lot of these real people play themselves in our show because obviously it's not the '80s," Orrantia said. "They don't look anything like [they did 30 years ago] and they don't want it to pop as a distraction. But I still think that the audience will be forgiving if that's the case. I don't know who they want to have, but hopefully we'll be able to do more because it's something I enjoy."
Erica's Singing Career
Last season, we got to hear Orrantia's rendition of The Goldbergs theme song. She said she's going to cover some classic '80s hits as Erica embarks on her recording career.
"So far, songs you know," Orrantia said. "There probably will be an original because there always is."
It's one thing for Beverly to support her daughter's dream and to talk Murray (Jeff Garlin) into it. It's another to live the reality of being an out-of-work singer. Orrantia said reality hits home this season.
"They're not happy," she said. "I think even though there's a part of them that really wants Erica to succeed and be happy and do what she loves, there's also the realism that comes into it  of but yeah, how are you going to make that work? Everyone wants to be a rock star. Do you really have the means and the ability to be able to do it? I think that's something that she's got to come to terms with this season."
Erica will get a job though.
"I know it will be music related," she said. "It might not necessarily be the way she imagined it."
The Goldbergs returns September 26, 2018 on ABC.