'BlacKkKlansman' Clips: John David Washington Prepares To Infiltrate The Ku Klux Klan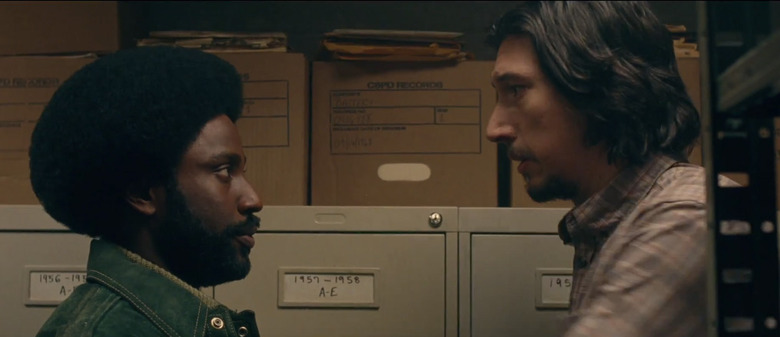 Alongside the giant shark swimming into theaters this weekend in the form of The Meg, director Spike Lee is coming back to the big screen with what many have called his best and most accessible film in over a decade (though our own review finds the film to be a little clumsy while also enjoyable and outrageous).
BlacKkKlansman follows the real life exploits of Ron Stallworth (John David Washington), the first African-American detective to serve in the Colorado Springs Police Department. But that's not his crowning achievement. Stallworth set out to infiltrate the Ku Klux Klan in the 1970s by going undercover in the racist organization. And a set of new BlacKkKlansman clips introduces us to some of the characters involved in this incredible true story.
First up, here's Topher Grace as David Duke, Ku Klux Klan Grand Wizard, addressing some of his loyal followers with an inspirational monologue for anyone who is a white power driven, hardcore racist. He ends his speech by saying "America first." and raising his glass to the crowd, who immediately repeats it with pride. Man, that tagline feels vaguely familiar, and I'm sure I've heard something like that recently, maybe emblazoned across a cheap red hat.
Next up, here's John David Washington as Ron Stallworth, meeting Patrice Dumas (played by Laura Harrier of Spider-Man: Homecoming), the president of her college's Black Student Union. He tries to use his charisma to sweet talk Dumas into getting to the front of the line to see radical speaker Kwame Ture (Corey Hawkins), but she's not buying into his charm.
Finally, here's Stallworth trying to convince fellow detective Flip Zimmerman (Adam Driver) to join in his undercover investigation of the Ku Klux Klan. Zimmerman isn't quite as gung ho about the cause as Stallworth is, telling his fellow detective that this is more of a crusade than a job. But of course, we know Zimmerman is going to end up teaming up with Stallworth to take down these racist Halloween ghosts.
Here's the official synopsis for Black KkKlansman:
From visionary filmmaker Spike Lee comes the incredible true story of an American hero. It's the early 1970s, and Ron Stallworth (John David Washington) is the first African-American detective to serve in the Colorado Springs Police Department. Determined to make a name for himself, Stallworth bravely sets out on a dangerous mission: infiltrate and expose the Ku Klux Klan. The young detective soon recruits a more seasoned colleague, Flip Zimmerman (Adam Driver), into the undercover investigation of a lifetime. Together, they team up to take down the extremist hate group as the organization aims to sanitize its violent rhetoric to appeal to the mainstream.
Black KkKlansman arrives on August 10, 2018.