'Spider-Man: Far From Home' Taking Samuel L. Jackson And Cobie Smulders Abroad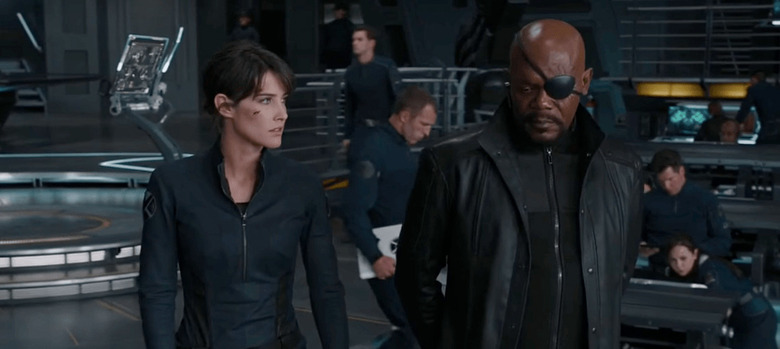 Spider-Man: Far From Home is in production right now overseas, and a couple rumored casting additions have just been confirmed that continue to undo certain events in the Marvel Cinematic Universe.
After briefly appearing in the post-credits scene of Avengers: Infinity War, former SHIELD agents Nick Fury and Maria Hill will be getting involved in Spider-Man's upcoming adventure abroad. But the question is how? Spoilers for Infinity War follow.
Vulture has learned that both Samuel L. Jackson and Cobie Smulders will have roles in Spider-Man: Far From Home. Their involvement in the Spidey sequel has been rumored for the past few weeks with Jackson posting to Instagram from both London, England and Capri, Italy, both locations being used for the sequel.
Recently added cast member Numan Acar posted to Instagram to confirm his role in the movie not too long ago, and fans quickly took notice that hashtags for #MariaHill and #NickFury were included in his post before he edited the text and removed them. He also included Jake Gyllenhaal as a hashtag as well, seemingly confirming his reported role as the villain Mysterio, but that's something that has yet to be officially announced. The actor has been spotted in London recently though, adding more fuel to the reports.
This will be the first time Nick Fury and Maria Hill have encountered Spider-Man in the Marvel Cinematic Universe. They will probably end up looking into the same threat while overseas in Europe. Undoubtedly, Peter Parker will be all too eager to be involved in their spy world, so cue plenty of pop culture references to James Bond and Jason Bourne.
But we're still wondering exactly how the story of Spider-Man: Far From Home will unfold. After all, let's not forget that Spider-Man, Nick Fury and Maria Hill all turned to dust at the end of Avengers: Infinity War. We talked about how Far From Home appears to be ditching the Iron Spider suit in favor of the other suit that Tony Stark designed for Peter Parker, which could indicate that the movie takes place before the events of Infinity War instead of after Avengers 4. Or it means that Spidey's cool new suit gets trashed.
As for the rest of the Spider-Man: Far From Home cast, JB Smoove has some kind of role, and Michael Keaton is supposed to reprise his role as Aadrian Toomes, AKA The Vulture. Plus, Peter Parker's classmates played by Zendaya and Jacob Batalon are supposed to be back as well. Hopefully, we'll get official word on the cast sometime soon.
Spider-Man: Far From Home hits theaters on July 5, 2019.