'Birds Of Prey' Villain Will Be Batman Bad Guy Black Mask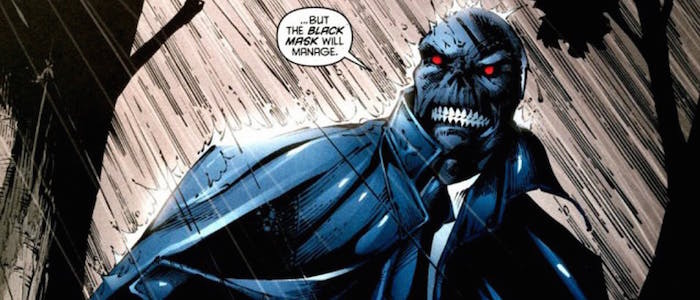 It's no secret that Batman has the best Rogue's Gallery of any superhero character, and the upcoming Birds of Prey movie will pilfer it for their Big Bad. Roman Sionis, better known by his supervillain name Black Mask, will menace Harley Quinn and her allies in the film.
The Wrap has the scoop, reporting that Black Mask will face off against the combined might of Margot Robbie's Harley Quinn, supersonic scream-powered Black Canary, mafia-princess-turned-vigilante Huntress, Cassandra Cain (AKA one of the several Batgirls), and Gotham City detective Renee Montoya. While Black Mask has been a regular fixture in DC comics since his debut in the pages of Batman in 1985 (and has appeared in video games and direct-to-video animated movies), this will be his big screen debut.
Created by writer Dough Moench and artist Tom Mandrake, Black Mask is a criminal mastermind with a bone to pick with Bruce Wayne and Wayne Enterprises. He uses his significant wealth to create a powerful criminal organization to exact his revenge, wearing skull-shaped mask to hide his identity and utilizing money, smarts, gadgets, and extreme physical training to win battles. He is essentially the dark mirror of Batman – Bruce Wayne gone horribly wrong. That alone makes him a bit of a strange choice for Birds of Prey. Who is Black Mask without Batman?
At the same time, he's a strong choice. A generic bad guy wouldn't fly here – this group of badass ladies deserves a villain worthy of their fists. And an iconic, old school Batman villain wouldn't work either – the women should be the focus here, and that wouldn't be the case if everyone got excited about the next Two-Face, Penguin, or Riddler. Black Mask is just famous enough to get fans excited while being just obscure enough to not detract from the fact that this will be the first live-action movie about an entire team of female superheroes.
So, here's the question: who should play Black Mask? It's a bit of a thankless role since his face will be hidden the entire time, so start brainstorming your favorite character actors with menacing voices.
While originally developed as a vehicle for Margot Robbie's Harley Quinn (the sole bright spot in the otherwise turgid Suicided Squad), the cast has expanded to include some of the DC Universe's fan-favorite heroines, most of whom have never had such a bright spotlight shone on them. Personally, I can't wait to watch Renee Montoya kick Black Mask's ass on the big screen.
Birds of Prey was written by Christina Hodson and will be directed by Cathy Yan. No release date has been set.