'Deadpool 2' Blooper Reel: Blown Lines, Bad Ideas, F-Bombs, And A Poorly-Timed Train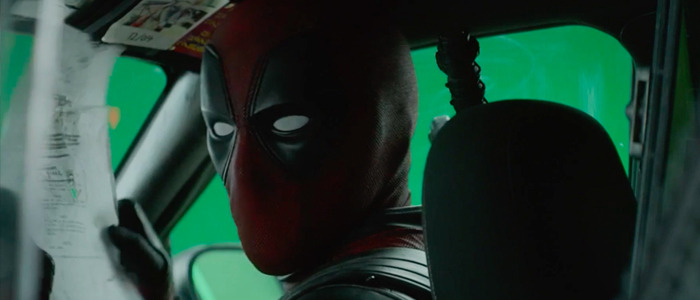 After making a splash at this year's San Diego Comic-Con International with its extended "Super Duper $@%!#& Cut," 20th Century Fox's Deadpool 2 is coming to digital home video tomorrow. A superhero film with an impending home video release? You know what that means: bonus features are beginning to make their way online.
Today, we have a look at the Deadpool 2 blooper reel, which shows stars Ryan Reynolds, Josh Brolin, and Zazie Beetz dropping F-bombs, screwing up their lines, and generally goofing off during the making of the superhero sequel. Check it out below.
Deadpool 2 Blooper Reel
Entertainment Weekly
shared the blooper reel, so please forgive our embed of their garbage video player. Despite EW's claim that this video is "a delight to behold," the jokes and screw-ups here are pretty tame overall, and far less filthy and ExTrEmE than you'd expect from a
Deadpool
sequel.
That said, even the inclusion of a few F-bombs here had me wondering if Disney will allow something like that to fly when the studio officially signs the final contracts and acquires 20 Century Fox studio and its assets sometime next year. (Anyone still celebrating the idea that Deadpool could now cross into the Marvel Cinematic Universe is either entirely missing the game-changing implications of that deal or willfully ignoring them.)
Speaking of the Mouse House, how are they going to react to this joke from Ryan Reynolds about "toddler balls"? Are they going to sever their business relationship with him and co-writers Rhett Reese and Paul Wernick? I mean, it'd only be fair, right? After all, that's what they did with Guardians of the Galaxy director James Gunn, who made similar jokes on Twitter nearly a decade ago. Huh!
Meanwhile, you can watch a special Deadpool 2 concert from Comic-Con here, and click here to discover all of the film's bonus features that will be attached to its home video release. Deadpool 2 hits digital HD on August 7 and 4K Ultra HD, Blu-ray, and DVD on August 21, 2018.