'Christopher Robin' And A Couple Of Spies Couldn't Stop 'Mission: Impossible - Fallout' From Topping The Box Office Again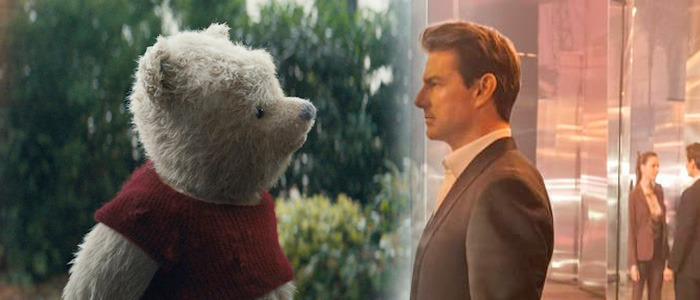 After debuting in the top spot last weekend with $61.2 million, two new wide releases couldn't stop Tom Cruise and his Impossible Mission Force from taking the #1 spot again. Mission: Impossible – Fallout earned an estimated $35 million in its second weekend, enough to stop the family friendly Christopher Robin and even a couple of amateur secret agents in the form of Mila Kunis and Kate McKinnon in The Spy Who Dumped Me.
The Mission Impossible Fallout box office take (via Box Office Mojo)  brings the domestic total to just under $125 million after being in theater for 10 days. The second weekend only dropped 42.8%, which spells good news for the action sequel's legs for the rest of the summer. In fact, it's the second best sophomore weekend in the entire franchise after Mission: Impossible – Ghost Protocol. But that isn't actually a fair ranking since Ghost Protocol had a limited release during the holidays in 2011, making the second weekend a more proper debut that easily outshines any second weekend in the entire franchise.
Around the world, Mission: Impossible – Fallout is doing solid business with $76 million raked in from international markets, including 20 new territories this weekend. Internationally, Fallout now has a total of $205 million, which currently puts it ahead of Mission: Impossible – Rogue Nation by 21%. If these kind of numbers hold, we could see the movie doing the same kind of business. And considering Rogue Nation ended up with $682.7 million globally, that wouldn't be bad news at all.
Meanwhile, Christopher Robin didn't perform quite as well as Walt Disney Pictures hoped. The live-action Winnie the Pooh version of Hook landed a $25 million opening weekend, meaning this won't be one of Disney's runaway hits. However, the movie has been impressing audiences, so there's a chance it could have some decent legs in the weeks to come. Globally the movie isn't making much noise, with just $4.8 million pulled in so far. However, it will open in other international markets over the next couple of months, so the box office take will be slower and more staggered.
On the more comedic side of spy action at the box office, The Spy Who Dumped Me couldn't shake much of a stick at Mission: Impossible. The movie opened slightly under Lionsgate's expectations with around $12.3 million in third place. It could be a challenge for the movie to top $30 million with that kind of debut, but the good news is that the movie only cost $40 million to make, and more than half of that was earned back by foreign sales of the movie, so this certainly isn't a bomb.
The rest of the top 10 were all under $10 million with Mamma Mia!: Here We Go Again barely edging out The Equalizer 2, followed by Hotel Transylvania 3 and Ant-Man and the Wasp.
But there was one more new release that barely made an impression. 20th Century Fox's young adult adaptation The Darkest Minds made an estimated $5.8 million and managed to have the 11th worst opening weekend ever for a movie opening on over 3,000 screens.
The top 10 at the box office was rounded out by animated superheroes with Incredibles 2 and Teen Titans Go! To the Movies in the #9 and #10 spots. Clearly things are starting to slow down as blockbuster summer comes to an end. We'll see if The Meg can make things a little more exciting this weekend.