Kurt Russell Supports 'Guardians Of The Galaxy' Director James Gunn, Dave Bautista Calls Disney's Actions "Nauseating" [Updated]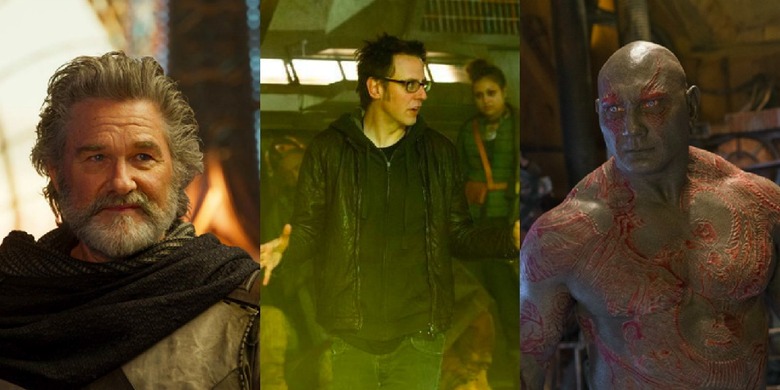 Update: Dave Bautista has doubled down on his stance in a new interview. You can read his quotes below.
Following the abrupt firing of writer/director James Gunn from the third Guardians of the Galaxy film, the series cast banded together in support of the filmmaker with an open letter addressed to the Walt Disney Company. And while several cast members have already issued individual statements supporting the director following the resurfacing of his controversial old tweets, a few more members of the Guardians of the Galaxy cast are coming out in support of Gunn and to voice their displeasure with Disney.
Last month, Gunn became the target of a "controversy" spearheaded by alt-right bloggers who co-opted the outrage over Gunn's offensive jokes, many of which were about pedophilia. It was part of a concerted effort by the alt-right to target celebrity who are critical of President Trump, using bad faith arguments to get celebrities like Gunn, Dan Harmon, and Trevor Noah fired from their jobs.
Because of the manner in which Gunn's tweets (all of which were posted before he was hired to direct Guardians of the Galaxy) resurfaced, many have been criticizing Disney for kowtowing to a bad faith argument, which in some corners of the internet has spiraled into a full-blown conspiracy theory. Dave Bautista, who signed the letter that the Guardians of the Galaxy cast penned to Disney, is adding his voice to those lambasting Disney for their decision to "empower a smear campaign by fascists."
I will do what Im legally obligated to do but @Guardians without @JamesGunn is not what I signed up for. GOTG w/o @JamesGunn just isn't GOTG. Its also pretty nauseating to work for someone who'd empower a smear campaign by fascists #cybernazis . That's just how I feel https://t.co/Ym4FwruVDu

— Dave Bautista (@DaveBautista) August 5, 2018
Bautista said in his tweet that he's still legally obligated to star in Guardians of the Galaxy 3, which is still without a director following Gunn's firing. Many are taking Disney's silence on the matter as evidence that they could re-hired Gunn, but as the weeks following his firing stretch on, that seems more unlikely. However, Bautista is the first cast member to explicitly mention the alt-right roots in the Gunn controversy, which is encouraging.
Update: Bautista has now gone a step further. In an interview with Shortlist, the man behind Drax the Destroyer said he will walk if Marvel doesn't use James Gunn's script for Guardians of the Galaxy Vol. 3: "Where I'm at right now is that if [Marvel] don't use that script, then I'm going to ask them to release me from my contract, cut me out or recast me. I'd be doing James a disservice if I didn't."
Bautista's aggressive stance stands in sharp contrast to some of his co-stars: "I spoke to Chris Pratt the day after it happened and he's a bit religious so he wanted time to pray and figure it out, but I was more like: fuck this. This is bullshit. James is one of the kindest, most decent people I've met."
The rest of our original article continues below.
***
On the other hand, Kurt Russell, who starred in Guardians of the Galaxy Vol. 2, puts the blame (perhaps naively) on the current "sensitive" climate in Hollywood that has seen the comeuppance for filmmakers and executives accused of sexual misconduct. "It's sad. But it's a part of our fabric now, and I get it," Kurt Russell said to Variety at Netflix's Wild, Wild Country Emmy celebration on Saturday night. "But I do think we're getting a little too sensitive on maybe some of the wrong people."
But Russell reiterates his support of Gunn, who again, has been accused of no actual sexual misconduct and has issued several apologies for his old tweets, which he said "don't reflect the person I am today or have been for some time." Russell said:
"You have to realize that when you are in that world as a comedian, a writer, whatever you're always stretching the boundaries and trying to find something which lead him to something that the world loves, which is Guardians of the Galaxy. He has a wonderful heart and a wonderful mind. I hope he is forgiven."
Guardians of the Galaxy was previously set to begin shooting in Atlanta in the fall.