'Smallfoot' Trailer: Channing Tatum Goes On A Quest For The Mythical Human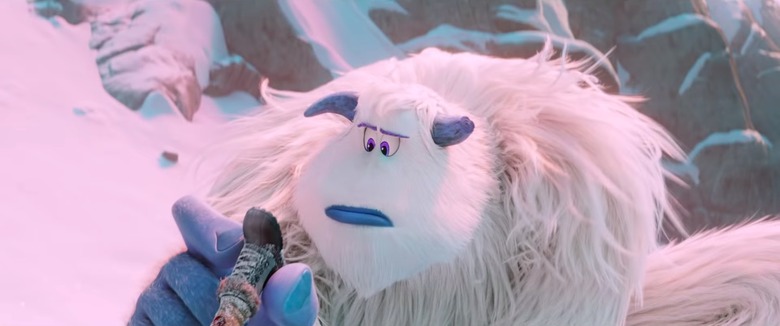 The yetis in Warner Bros.' upcoming CG-animated film Smallfoot thought humans were a myth. Well, they were...myth-taken.
The close community of yetis who live atop a towering mountain are thrown into chaos when Migo (Channing Tatum) sees the mythical human being, or "Smallfoot," for the first time. But when no one believes him, Migo takes it upon himself to prove that they exist.
Smallfoot Trailer
When Warner Bros. set out to make a fun family film about yetis that hilariously subverts the whole "Bigfoot" myth (Get it? We're the myth now!), they probably didn't anticipate it to get political. And yet in the last few days, Bigfoot erotica became a common term bandied about the internet and I can't watch this Smallfoot trailer without thinking, "Wow, this is the worst Bigfoot erotica I've ever seen." Just think about it: a human is kidnapped by a yeti, taken to his warm, cozy cave and gets an apple put in his mouth. Okay, I'll stop now.
But for the most part, Smallfoot seems like a perfectly harmless movie from Karey Kirkpatrick, the director of Over the Hedge, featuring Channing Tatum being as charming as he can be from a recording booth. And of course, the human victim is played by James Corden, who seems to be determined to be in every single animated movie this year. The cast is rounded out by Zendaya, Common, LeBron James, Gina Rodriguez, Danny DeVito, Yara Shahidi, Ely Henry and Jimmy Tatro.
Here is the official synopsis for Smallfoot:
An animated adventure for all ages, with original music and an all-star cast, "Smallfoot" turns a myth upside down when a bright young yeti finds something he thought didn't exist—a human. News of this "smallfoot" throws the simple yeti community into an uproar over what else might be out there in the big world beyond their snowy village, in an all new story about friendship, courage and the joy of discovery.
Smallfoot trudges into theaters on September 28, 2018.