A Totally Fake 'Party Down' Revival Is Coming To Ryan Hansen's YouTube Premium Show [TCA 2018]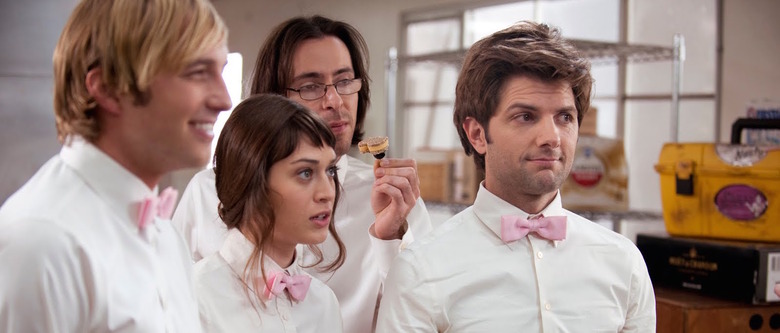 Ever since its cancellation after two seasons, fans of Party Down have been hoping for a continuation. The show's creators were writing a movie, but even after revivals of X-Files, Full House, Roseanne, Will & Grace and Arrested Development, there hasn't been a Party Down revival. Now fans can get a glimpse at a Party Down revival, but will be a joke in the second season of YouTube's Ryan Hansen Solves Crimes on Television.
The Television Critics Association visited the set of Hansen's YouTube Premium comedy series and noticed signs pointing to the set of Party Up in the same font. It turns out, part of the story in season 2 of Ryan Hansen involves the filming of a Party Down reboot, called Party Up. Original Party Down star Ken Marino guest stars as himself, now directing the Party Up reboot.
Party Down starred Marino, Hansen, Adam Scott, Lizzy Kaplan and Martin Starr as caterers who all have Hollywood aspirations, which sometimes crossed over with the hosts who hired them. Ryan Hansen producer Beau Bauman explained the Party Up jokes in season 2.
Hansen gets upset when he discovers Party Up because he wasn't asked to be involved. During a break from filming, Hansen told reporters that one scene involves a fight with Marino on a green screen stage, where Marino is wearing a full green suit with only his head exposed. The reason they're filming Party Up, a relatively simple show, on green screen is so they don't have to decide on the background until later.
Within the world of Ryan Hansen, Party Up is also going to be broadcast by YouTube, creating a rivalry between Hansen and Marino because Marino is getting more money for his (fictional) show. "There are lots of jokes about the status of Party Up versus the status of Ryan's show," Bauman said.
On Ryan Hansen Solves Crimes On Television, Hansen plays himself partnering with a real detective (Samira Wiley), for a show called Celebrity Vice Squad. Ryan Hansen spoofs mismatched buddy cop movies, Hollywood itself, YouTube and social media as the fictional Hansen still goes on auditions and tries to get likes on his selfie videos.
When Ryan Hansen debuted, YouTube's premium service was called YouTube Red and the show joked about how it sounds like a porn site. Now that they go by YouTube Premium, Ryan Hansen makes fun of that too.
"We also have a whole runner about how we make fun of networks that change their names,"Bauman said. "Last year it was YouTube Red sounded like a porn site. This year it's changing their names because that's really smart for building brand recognition."
The show broke the fourth wall liberally with Hansen addressing the camera, as well as shooting his own first person videos throughout episodes. Every episode ends on the set of a sitcom when Hansen comes home to his "family" (his wife is played by Aly Michalka), because YouTube couldn't decide on the show's format. Bauman said they're taking that joke further in season two.
"The joke in this scene is that Ryan's children have been recast,"Bauman said. "They've been recast by kids who are teenagers. They're older than his usual adorable blonde daughters and they look as close as we can to the teenage cast of This Is Us. Because This Is Us is a big hit."
Another running joke in the first season was that Captain Jackson was played by a different African-American actor in every episode, from Reginald VelJohnson to Yvette Nicole Brown. There's a new captain joke in season two.
"The new captain is a lady captain,"Bauman said. "Her name is Captain Lade'ee. It'll make sense when you see the name plate on her desk, maybe."
In each of the first season episodes, the body count increased each episode. So episode one was one body, episode two a double homicide, three a triple until there were eight bodies in the finale. Instead of going for nine through 16, season two will have a serialized mystery.
"There are some things we're doing the same as last season, some things we're doing differently,"Bauman said. "We're not doing the different body count per episode this season. We're changing some things up."
Ryan Hansen Solves Crimes on Television is expected to return either the end of 2018 or early 2019. Season one is on YouTube Premium now.