Nicole Kidman And Margot Robbie Join Charlize Theron In Fox News Scandal Movie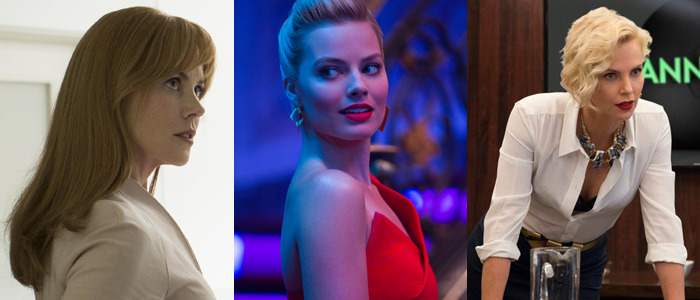 I never thought I'd be interested in anything having to do with Fox News, but damn it, Annapurna Pictures is piquing my interest by putting together a terrific cast for one of its upcoming films. Annapurna is making a Fox News scandal movie about the female employees who took down former news chief Roger Ailes, and now Nicole Kidman (Big Little Lies) and Margot Robbie (I, Tonya) have joined the previously-cast Charlize Theron. Read on to find out who they'll be playing.
In May, we learned that Theron will be playing former Fox News host Megyn Kelly, but today, Variety reports that Kidman will play former anchor Gretchen Carlson and The Hollywood Reporter says Robbie is on board playing a fictional associate producer character. Per Variety:
The film will tell the story of the ensemble of women who took on the toxic male culture of Fox News and helped depose its chief architect. Carlson played a key role in this story as she was the first female to file a sexual harassment against Ailes after she was fired.
Jay Roach, who has plenty of experience directing real-life political stories with movies like Game Change and Recount under his belt, is behind the camera on this one. The script for the still-untitled feature is written by Charles Randolph, the Oscar-winning co-writer of Adam McKay's The Big Short.
Ailes, who amassed a huge amount of political power by turning Fox News into the dominant cable news empire it is today, was forced to resign in 2016 due to multiple accusations of sexual misconduct. Carlson filed a lawsuit against him for sexual harassment, Kelly said Ailes made unwanted sexual advances toward her in the early days of her career, and more women came forward with similar claims after that.
THR says that other characters expected to appear in this film are former host Greta Van Susteren, media mogul Rupert Murdoch, and fired host Bill O'Reilly. None of the men have been cast yet, including Ailes, so it'll be interesting to see which actors are willing to sign up and make themselves look like monsters in this project.
I'm conflicted about the very existence of this movie. On one hand, it's important for stories like this to be seen by large audiences to enforce the fact that treating women – especially subordinates in a work environment – like sexual objects is not acceptable. But at the same time, I don't think that these women necessarily deserve to be lionized because they helped light the match for the garbage fire we're currently living in, serving as mouthpieces for an organization that has eroded the national discourse to a place where people can no longer agree on basic facts. I'm not quite sure what to think about the movie, but at least this cast should turn in some dynamite performances along the way.