Emily Blunt And Dwayne Johnson Welcome You Aboard 'Jungle Cruise' In A Charming On-Set Video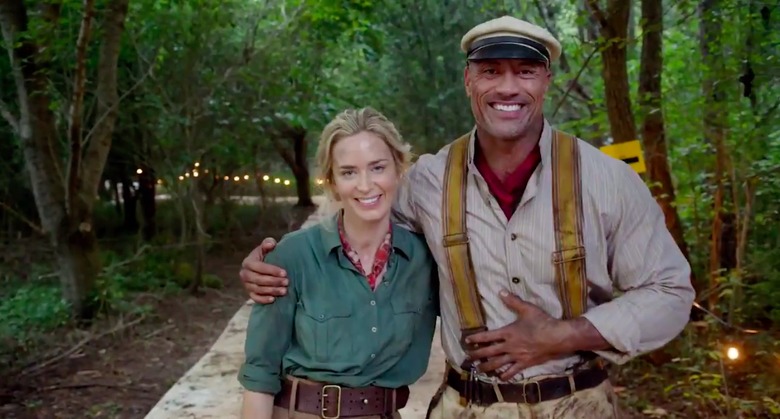 Welcome aboard Jungle Cruise, where Dwayne Johnson wears a tiny captain's hat, Emily Blunt is elegantly disheveled, and Johnson totally messes up Katherine Hepburn's name. He insults a legend! How dare he! But we'll forgive him this once because of that adorable little captain's cap that looks too tiny atop the Rock's giant body — which isn't wearing a khaki shirt for once!
Emily Blunt and Dwayne Johnson happily shared a video from the set of Jungle Cruise, Jaume Collet-Serra's adaptation of the popular Disney theme park ride, on Twitter. And it's utterly charming.
Jungle Cruise Announcement Video
Emily Blunt and Dwayne @TheRock Johnson welcome you to the adventure of a lifetime! Disney's @JungleCruise is now in production. In theaters October 2019. #JungleCruise pic.twitter.com/kKiasbWbT9

— Walt Disney Studios (@DisneyStudios) July 31, 2018
In the video, the two bicker and trade retorts before hugging each other and declaring that the film is an epic love story in the vein of other great cinematic romances: Kathleen Turner and Michael Douglas in Romancing the Stone, and The African Queen's Humphrey Bogart and Kathleen — er — Katherine Hepburn. Yes, that's the Rock messing up Hollywood legend Katherine Hepburn's name, which is totally inexcusable. The Rock is officially cancelled — but wait, look at his cute little hat. Look at his suspenders! Look at his bright-red cravat! I can't be angry at the Rock for too long when he's wearing a sweet early 20th-century captain's outfit like that.
Johnson and Blunt have chemistry for days in the minute-long video, which doesn't tell us much about the movie other than its romantic core and its jungle setting. But with director Jaume Collet-Serra (The Shallows, Non-Stop) at the helm, Jungle Cruise could be more than just a cash-grab adaptation of a beloved theme park ride. After all, Pirates of the Caribbean went on to become a wildly successful (and for the most part, good) franchise, and it was based on a popular ride. It's no surprise that Disney is looking at its theme parks for the next great idea. And with Jungle Cruise looking vastly different from the ride its inspired by, anchored by a romance and two charming leads, this could be Disney's next big hit.
Jungle Cruise also stars Jack Whitehall, Paul Giamatti, Edgar Wright, and Jesse Plemons. Penned by Michael Green (Logan, Blade Runner 2049), it's a period piece set in the 1900s Amazon jungle, and follows a boat captain (Johnson) tasked with taking a woman (Blunt) and her brother (Jack Whitehall) to a mythical tree with magical healing powers.
The Twitter caption states that the film will open in theaters in October 2019, which lands it right on the rumored release date of October 4, 2019, which Disney has already staked out with an "Untitled Disney Live Action" project. Jungle Cruise is currently in production.