Cool Stuff: Dano Brown's Hand-Crafted Action Figures For 'Forrest Gump', 'The Big Lebowski' & More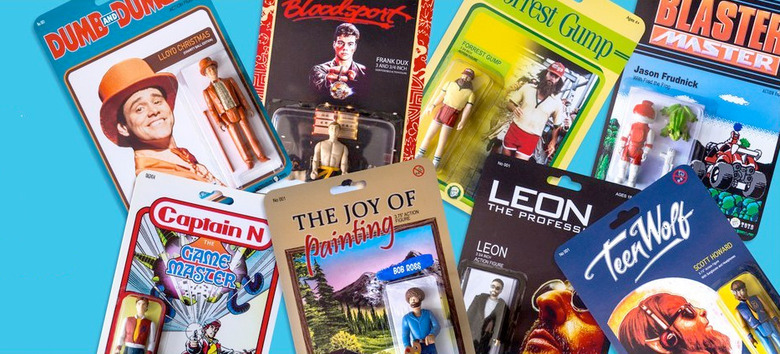 For all you action figure collectors out there, iam8bit gallery in Los Angeles has a new exhibition you might want to check out, especially if you're into the kind of action figures that haven't been produced before.
Artist Dano Brown, who has been obsessed with customized action figures since he was a kid, put together an exhibition of 40 original action figures inspired by movies, television and video games. There are figures from Dumb & Dumber, The Big Lebowski, Forrest Gump, The Wizard, The Jerk, Little Monsters, and more.
iam8bit Some Assembly Required Action Figures
Dano Brown gave himself an action figure profile which explains how he came to make these figures:
As a young boy, young Dano loved to doodle, paint, and build. Then one fateful day, while honing his skills as an artist, he was bitten by a bug. But not just any bug – a radioactive collecting bug. From that day forward, he could not help but to collect. Baseball cards, lighters, records, cheap watches – and eventually – Nintendo cartridges. Nearing the completion of the entire North American NES catalog, he dug deeper, in search of the full extent of his collecting abilities: Nintendo magazines, Nintendo books, Nintendo watches, Nintendo pencils. There were few who dared challenge his collecting prowess... until something happened.
He bought what he believed were rare Nintendo action figures, but which turned out to be original figures, make from parts of G.I. Joe and other action figures from his youth. And Dano knew – that with great collecting power came great collecting responsibility. He became obsessed with making his own figures and has since dedicated his life to a most noble pursuit – a hero's pursuit! To create any and every action figure he feels deserves to be made by never was.
These are just some of the movie-related figures that were on display and for sale at iam8bit. Most of them, which are 1 of 1, have already been sold. But there are a few still leftover from the collection that you can buy from the iam8bit online shop right here.