Netflix Addresses 'Stranger Things' Season 3 Delay And A Certain Season 2 Controversy [TCA 2018]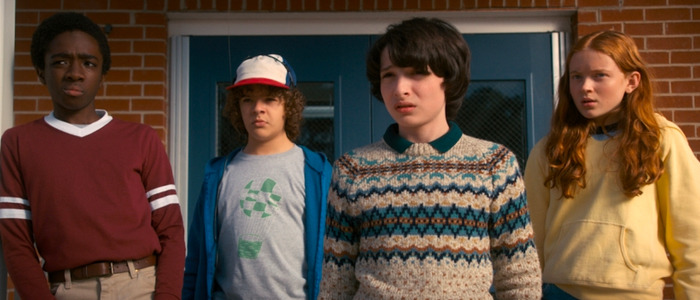 The Duffer Brothers and producer Shawn Levy previously revealed that Stranger Things season 3 would take place during the summer. Now it's not going to air until the summer either, missing the original late 2018 premiere window.
During the executive session with the Television Critics Association, Vice President of Original Programming Cindy Holland explained the Stranger Things season 3 delay, and also addressed one of the controversies that emerged after the second season premiered on Netflix.
"[Stranger Things is] a hand crafted show," Holland said. "The Duffer Brothers and Shawn Levy have worked really hard and they understand the stakes are high. They want to deliver something bigger and bette than what they did last year. I think it's going to be a fantastic season, worth the wait."
The third season is currently in production, and Levy spilled that one of the locations was going to be the town swimming pool. Most '80s kids remember summers spent at the pool, and its been a staple of several movies made and set during that decade, so it only makes sense to visit that location, just like the new Starcourt Mall teased in a recent viral teaser video.
During follow-up questions after the session, /Film asked Holland if the delay has changed any of the plan for the third season.
"Nothing has changed with respect to Stranger Things," Holland said. "It's a fantastic season. There are more special effects, and I think it's going to be a really exciting season but it just takes a little more time."
The second season ended with the Shadow Monster still looming over The Upside Down as the kids enjoyed their school dance. We've only seen glimpses of the monster so far, but if that creature is a major enemy of season three, that may be why we're getting a little more CGI work than the usual Demogorgons.
Levy has also said that season three would continue to explore the boys encountering their first girlfriends. In fact, one of those romantic entanglements led to a little controversy following the premiere of the second season.
After the season finale of season two, new cast member Sadie Sink said on the aftershow Beyond Stranger Things that she felt stressed out about a kissing scene with Caleb McLaughlin, who plays Lucas, and that it was not scripted. Ross Duffer added fuel to the fire by saying when he joked about adding a kiss with McLaughlin, Sink got so freaked out that they made her do it. Sink later told The Wrap that she was nervous because it was her first kiss ever, but she never objected or felt pushed into it.
Nevertheless, it raised questions about how young actors are treated on set. This came after an anonymous crew member accused the Duffer Brothers of verbal abuse on set in tweets which have since been deleted.
So /Film asked Holland if the Sadie Sink incident sparked a conversation at Netflix for any show involving young actors to be sure everything is planned and approved for them ahead of filming.
"Yes absolutely," Holland said. "Our first priority is to make sure every set is safe and happy for everybody involved. Certainly events of the past year have even created even more heightened awareness of things that happen on set."
Stranger Things returns summer 2019.