'Maniac' Teaser Takes Jonah Hill And Emma Stone On A Pharmaceutical Trip For Netflix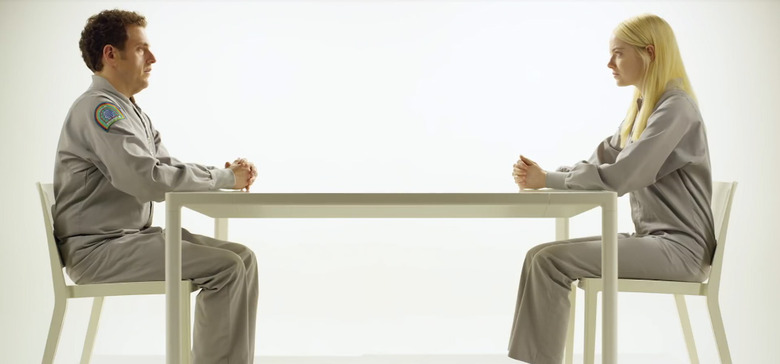 The last time Emma Stone and Jonah Hill were on the big screen together, it was in the 2007 high school comedy Superbad. Now they're teaming up for something completely different at Netflix.
Maniac is a new limited series from True Detectives season one executive producer and director Cary Fukunaga, and it follows Emma Stone and Jonah Hill as two strangers who are part of a mysterious pharmaceutical trial that will supposedly solve all their problems. The first Maniac trailer has arrived, and while it doesn't reveal much about the series, it does set a wild tone for what's to come.
Watch Netflix's Maniac Trailer
Maniac is based on a Norwegian series of the same name, and the premise promises that our minds will be sufficiently perplexed by what will unfold in this story. If you don't believe me, here's the official synopsis for the series:
Set in a world somewhat like our world, in a time quite similar to our time, Maniac tells the stories of Annie Landsberg (Emma Stone) and Owen Milgrim (Jonah Hill), two strangers drawn to the late stages of a mysterious pharmaceutical trial, each for their own reasons.  Annie's disaffected and aimless, fixated on broken relationships with her mother and her sister; Owen, the fifth son of wealthy New York industrialists, has struggled his whole life with a disputed diagnosis of schizophrenia. Neither of their lives have turned out quite right, and the promise of a new, radical kind of pharmaceutical treatment—a sequence of pills its inventor, Dr. James K. Mantleray (Justin Theroux), claims can repair anything about the mind, be it mental illness or heartbreak—draws them and ten other strangers to the facilities of Neberdine Pharmaceutical and Biotech for a three-day drug trial that will, they're assured, with no complications or side-effects whatsoever, solve all of their problems, permanently. Things do not go as planned.
The premise brings to mind Eternal Sunshine of the Spotless Mind but with more of a psychedelic, 1980s techno vibe than the quirky, indie style of the film from writer Charlie Kaufman and director Michel Gondry. There might even be a little Cure for Wellness thrown in there for good measure. But it still feels wholly unique and very much intriguing.
Knowing that Cary Fukunaga is behind this series and what he accomplished with the incredible first season of True Detective on HBO, this sounds like the perfect story and place for him play in his mindfuck of a sandbox without any restrictions.
Maniac will hit Netflix this fall on September 21, 2018.