Alex Winter Downplays 'Bill And Ted 3' Production Worries From Keanu Reeves [TCA 2018]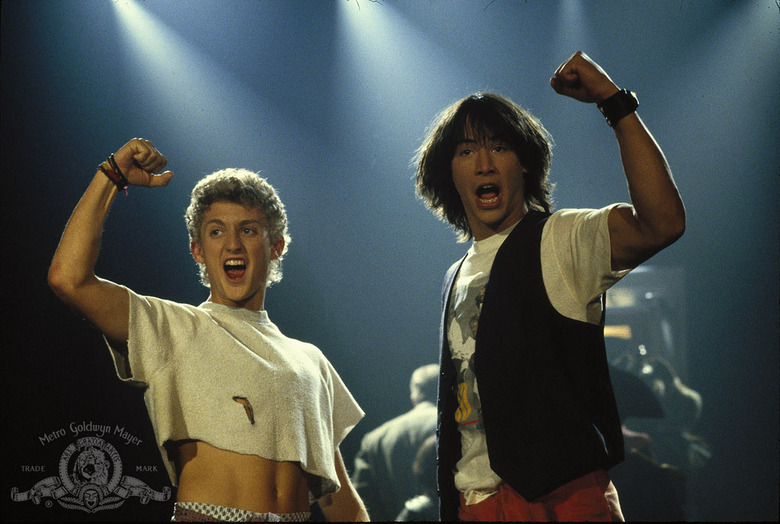 Keanu Reeves and Alex Winter have been talking about doing Bill and Ted 3 for years. It finally seemed like a go when director Dean Parisot signed on and the film, titled Bill and Ted Face the Music, was greenlit for production. Then last week Reeves said he didn't know if it would become a reality.
Thankfully, Winter was on a Television Critics Association panel for his participation in Eli Roth's History of Horror for his role in The Lost Boys. After the panel, reporters asked if Bill and Ted Face the Music has hit another snag. Winter explained Reeves' comments, and he makes things sound a little more promising.
"We're still in pre-production," Winter said. "It's still the same. Early 2019 is still the same. I'm still being told to hold those dates. That's all I know."
Reeves' latest statements echo the actors' consistent statements every time they were asked why the third film had not happened yet. Getting the green light didn't change things, but it seems they are still on track.
"What I keep telling everyone is I don't trust a movie as being made, frankly, until, literally, I'm watching it on cable two years after it's done," Winter said. "Not even while we're shooting it. To be fair to Reeves, his point is just anything can go wrong at any point. We made the first movie and it was shelved for a year and a half. We were like it's done, never going to come out, no one's ever going to see it. It's a pain in the ass. It's not ever not a pain in the ass. Nothing has changed in a radical way. If it is, that'll be news."
Bill and Ted's Excellent Adventure sent the surfer dudes air guitaring through time. In the future they would become the saviors of the universe through their music, but if they failed high school, they'd be separated. The sequel, Bill and Ted's Bogus Journey had an evil villain in the future send evil robot Bill and Teds to kill them. Bill and Ted went through hell and heaven to fulfill their destinies. The stars and writers Ed Solomon and Chris Matheson have suggested Bill and Ted Face the Music will see middle aged Bill and Ted come to terms with whether or not they are in fact going to be rock star saviors the world needs them to be
Stay tuned to find out how Bill and Ted Face the Music continues to develop, and keep your fingers crossed.