New 'Iron Fist' Season 2 Teaser Reveals Danny Rand's New Comic Book Style Threads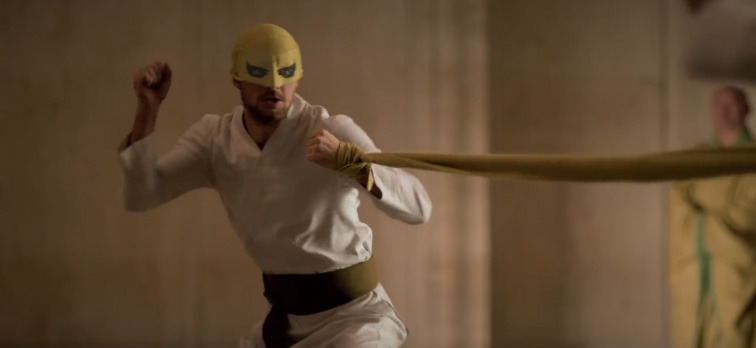 Fall is right around the corner, and that means it's almost time for the return of Finn Jones as Danny Rand, better known as Marvel's Iron Fist. The first teaser for the show's second season debuted at San Diego Comic-Con along with an early September release date.
Now a new Iron First season 2 teaser has arrived that gives us an even better look at what's in store for arguably the least favorite member of The Defenders. The good news is that it feels like the show will have a big course correction, which includes Danny Rand's new comic book-inspired Iron Fist wardrobe. However, it's not appearing in the manner which fans might have expected or hoped.
Watch the Iron First Season 2 Teaser
The teaser doesn't reveal much except Danny Rand walking alongside Colleen Wing (Jessica Henwick). While they're walking through the city, Danny is having these flashes to some kind of fight. Here we see the classic Iron First costume, seemingly being used as part of some training ritual in a large marbled room. The fight escalates pretty quickly, eventually showing each of the fighters unmasked with blood on their wardrobe.
When Colleen shakes Danny out of his flashback daze, he shakes it off as a bad memory. She then reassures him that it's in the past, but Danny ominously says, "I hope so." It's a safe bet that something, or rather someone, from Danny's past is going to come back to bite him in the ass.
As for the fight scene in question, it would appear that this is the fight scene that was shown at San Diego Comic-Con last weekend. It features Sacha Dhawan as Davos fighting with Danny Rand as they battle to see who will become the Iron Fist. The scene ends with Danny being named Iron First, but Davos is alive and has not given up. In fact, he's probably held a grudge and is ready to get revenge on Danny. For more on that scene and the other goods show at Comic-Con, head over here.
There's plenty we still don't know about the second season of Iron Fist, but surely a more detailed, longer trailer for the show's return on Netflix will be coming sometime in the next month before the series unloads all of the new episodes into the streaming library on September, 7, 2018.