'Dolemite Is My Name' Co-Star T.I. Says Film Focuses On Rudy Ray Moore's Resourcefulness [TCA 2018]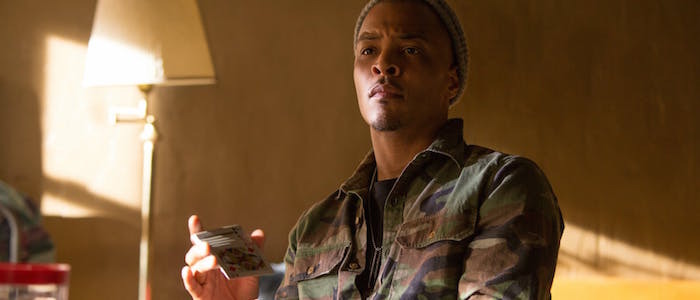 Tip "T.I." Harris was on a Television Critics Association panel for his BET show The Grand Hustle. Speaking with reporters after the panel, /Film asked him about his role in Dolemite Is My Name, the biopic of Dolemite creator Rudy Ray Moore starring Eddie Murphy as Moore. T.I. said the film is focused on how resourceful Moore was in making his film.
"The actual story of Rudy Ray Moore and how Dolemite was created, that is the premise of the film," T.I. said. "If you are familiar, he kind of went to a movie and when he was walking out of it said, 'Hey, man, why can't I have a movie? I want a movie myself.' So he just, on a shoestring budget, began to connect dots and use his resourcefulness and applied an eminent amount of hustle to get him to connect what we call Dolemite to the market."
The 1975 film was a seminal entry in the "Blaxploitation" wave of the '70s that also included Foxy Brown, Cleopatra Jones and Shaft. Moore played the title character, a pimp out for revenge on the rival who framed him and got him imprisoned. Moore's do-it-yourself nature, along with the direction of D'Urville Martin, is part of the film's charm.
"It was completely independent, couldn't even get it distributed, down to climbing up the pole to connect the electricity for their location," T.I. continued. "Everything that he did was resourceful. I think that is the story."
While cast members like Murphy, Wesley Snipes (playing Martin), Keegan-Michael Key, Craig Robinson, Titus Burgess and more have been announced, T.I. could not reveal who he is playing in the film.
"I am not at liberty to speak," T.I. said. "I will say I am extremely excited to work along all of the legendary actors. I can't say who I'm playing."
Craig Brewer is directing from a script by The People Vs. Larry Flynt, Ed Wood and The People Vs. O.J. Simpson writers Scott Alexander and Larry Karaszewski. Dolemite Is My Name is currently in production.