'Avengers: Infinity War' Deleted Scene Has An Important Coded Secret Message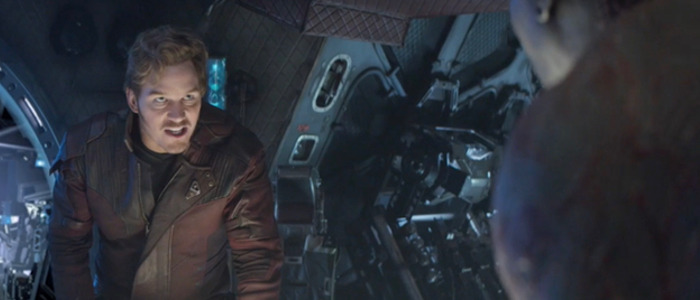 Infinity War Deleted Scene
Remember Avengers: Infinity War? It's definitely a film that came out this year, but it feels like so very long ago. Believe it or not, Infinity War will arrive via digital release next week. Ahead of that release, a new deleted scene has arrived online (via EW). This is the same deleted scene our own Peter Sciretta described in full from Comic-Con at the link above. The scene in question arrives sometime after Thanos has abducted his adoptive daughter Gamora. Needless to say, the Guardians are verklempt about this, and Star-Lord and Drax break into an argument.
First, over the song Back in the New York Groove and singer Ace Frehley ("The man who sings this song is a degenerate!" Drax yells). Then, over who is to blame for letting Thanos get away with Gamora in his clutches. During all of this, Mantis is distracted by a blinking yellow light. That light turns out to signal a message. Several messages, in fact. All from Nebula, who has sent 23 different desperate messages, which Star-Lord proceeds to read aloud:
"Gamora is alive. Thanos is taking her to Titan."
"Why aren't you responding?"
"Why aren't you responding?"
"Are you getting my important coded secret messages?"
It's an amusing scene, and it exists to set-up why the Guardians end up on Titan. But ultimately, directors the Russo Brothers cut it, likely for pacing. Sure, it spells-out why the characters head to Titan. But they already know that Thanos is from Titan, so heading there is a logical step that doesn't need a full-blown explanation. Still, if you're one of those people who thinks a character not mentioning something out loud is a "plot hole", this clip is for you!
This deleted scene is one of four that will appear on the digital and Blu-ray release. Here are the others.
Happy Knows Best (1:23) – Tony and Pepper spar over the details of their upcoming wedding—until a hassled Happy Hogan pulls up with an urgent request.
Hunt for the Mind Stone (1:24) – On a darkened street, Wanda Maximoff and the wounded Vision attempt to hide from Thanos' brutal allies.
A Father's Choice (4:00) – Thanos confronts Gamora with a vision from her past—and with lying to him about the Soul Stone.
Avengers: Infinity War arrives on digital on July 31, and Blu-ray on August 14, 2018.