Watch Ewan McGregor Interview Winnie The Pooh And Friends In This 'Christopher Robin' Featurette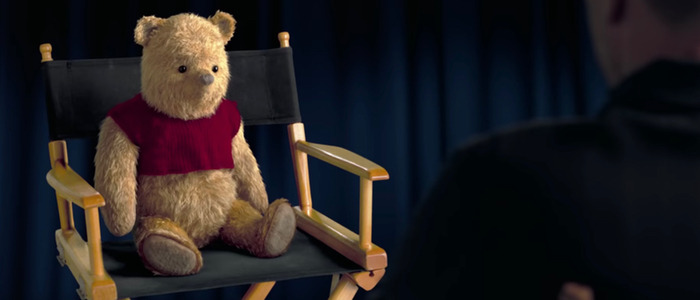 In this new Christopher Robin featurette, Ewan McGregor sits down with talking some stuffed animals and proceeds to interview them. It's painfully adorable, and charming, and you owe it to yourself to watch it. Plus: check out a clip from the film, and another behind-the-scenes featurette.
Christopher Robin Featurette 
Oh my god, this is almost too much. I don't know if I can handle it. This achingly cute featurette has Ewan McGregor interviewing his "co-stars" from Christopher Robin. Winnie the Pooh, Piglet, Tigger and Eeyore are all on hand to talk about their acting methods and the process of getting into character. It is charming as hell. Pooh gets distracted thinking about lunch. Piglet has to sit on some books. It's killing me with kindness, folks. Look – I'm a cynical, grumpy guy. But even my ice cold heart is melted by this. Just watch it and enjoy how damn nice it is.
Christopher Robin Featurette 2
But wait, there's more! This "Wisdom of Pooh" featurette is a brief-but-enjoyable behind-the-scenes look at the film, where Ewan McGregor breaks down what the movie is about. And points out that Winnie the Pooh's very laid-back, honey-based existence is ideal. "It's about something we could all use a bit more at the moment," McGregor says. "Slowing things down and realizing what's important in our lives." God damn it, this movie is going to make me cry, isn't it? Stop it, Christopher Robin. I'm on to you.
Christopher Robin Clip
Finally, this Christopher Robin clip has Christopher Robin telling Pooh to keep a low-profile in public, lest people freak out about witnessing a talking stuffed animal. Needless to say, Pooh doesn't quite understand this request. It's quick, it's cute, it's more proof this movie is going to give you "the feels", as the youths of today say. Everything I've seen regarding this movie has struck the right note. I know several people have called Pooh's appearance "creepy", but I really don't get that. I also remember that when the first look at Paddington arrived, the internet called Paddington's look "creepy" as well. There were memes and everything. And we all know by now that didn't turn out to be the case. So maybe just cool your jets, internet. That's all I'm saying.
Christopher Robin opens August 3, 2018.
In the heartwarming live action adventure Disney's "Christopher Robin," the young boy who shared countless adventures with his band of lovable stuffed animals in the Hundred Acre Wood is now grown up and living in London but he has lost his way. Now it is up to his childhood friends to venture into our world and help Christopher Robin rediscover the joys of family life, the value of friendship and to appreciate the simple pleasures in life once again.