VOTD: 'Mission: Impossible - Fallout' Cast Recaps The Entire Franchise In 11 Minutes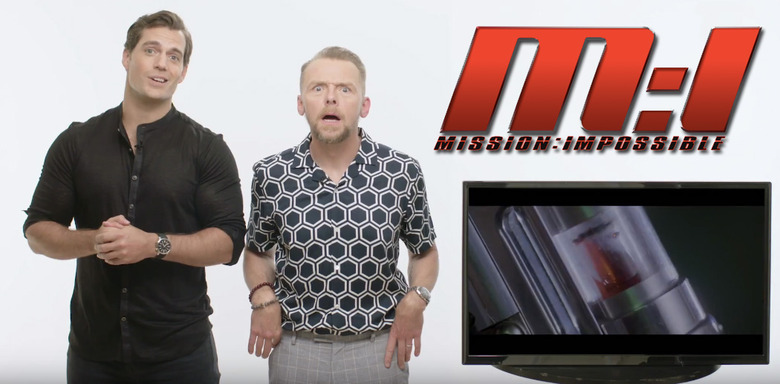 This weekend brings Mission: Impossible – Fallout to theaters, and even if MoviePass somehow isn't working properly this weekend, you should take the time to check out the latest installment of the action franchise starring Tom Cruise. It's the definition of a non-stop thrill ride and it has some of the most impressively executed action sequences in recent memory. It proves that director Christopher McQuarrie is one of the best blockbuster filmmakers working today.
However, if you're one of those more casual moviegoers who hasn't kept up with all the intricacies of the Mission: Impossible franchise, we have good news. Mission: Impossible – Fallout cast members Henry Cavill, Simon Pegg, Rebecca Ferguson, Angela Bassett and Vanessa Shaw participated in a recap video of the entire franchise that lasts just 11 minutes.
It's a shame Tom Cruise couldn't participate, but he's not one to do a lot of press that falls outside of the usual late night and daytime talk shows or red carpet interviews. But even so, this recap from Vanity Fair gives you pretty much everything you need to know in order to fully enjoy Mission: Impossible – Fallout.
However, if you had the time to watch just one of the movies before you head to the theaters this weekend, it should be Mission: Impossible – Rogue Nation. That's mostly because Fallout is the first time that there's been a direct sequel in the franchise with an abundance of characters and story details that carry over from the previous chapter. Plus, it's also directed by Christopher McQuarrie, so it will really get you in the mood for more action. And if you haven't read our review of Mission: Impossible – Fallout yet, it will definitely get you excited for the sequel..
If you'd like a more in-depth dig into the entire Mission: Impossible franchise, make sure to check out the extensive piece on the road to Fallout by our own Chris Evangelista. It's quite the detailed and perceptive look back at all the various missions Ethan Hunt has been on over the years. We also took the liberty of ranking the Mission: Impossible movies so you know which ones to prioritize if you're looking to rewatch them sometime soon, and we also did a series of articles focusing on how the directors of the Mission: Impossible movies used this franchise as a canvas to explore their pet themes and show off their unique sensibilities.
Mission: Impossible – Fallout is playing in theaters everywhere now.