'Hunter Killer' Trailer: Gerard Butler Tries To Save The Russian President In An Explosive Navy Thriller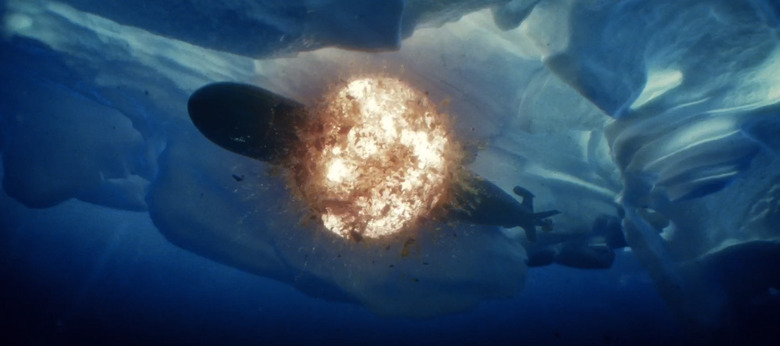 Every now and then, Hollywood decides to submerge themselves in Navy thrillers like U-571, Crimson Tide, The Hunt for Red October and of course, Battleship. Now the time has come for Gerard Butler to take a crack at commanding under the sea.
Hunter Killer follows Gerard Butler as Captain Joe Glass, who is at the helm of a highly sophisticated nuclear attack submarine called a "hunter killer." When the Russian president is kidnapped in a coup, he takes it upon himself to team up with a crew of Navy SEALs to rescue him and hopefully help reduce heightened tensions between the United States and Russia. Yeah, it's probably not the best time for this movie to be coming out.
Hunter Killer Trailer
The producers of Fast and Furious and Olympus Has Fallen are behind this, though it honestly doesn't feel quite as ridiculous as either of those movie. However, it does seem like the action both above and below sea level escalates pretty quickly with a lot of missiles being fired, perhaps a bit haphazardly. Plus, that money shot at the end with the submarine slowly coming out of an underwater explosion cloud doesn't exactly create the excitement that was clearly intended to end the trailer.
Donovan Marsh is behind the camera for this one, and it appears he has something to prove to American audiences, as the rest of his work comes out of South Africa. One of his films was an action thriller called Avenged, but he also directed the comedy Spud and the sequel Spud 2: The Madness Continues, both starring John Cleese and Troye Sivan. Perhaps this is the beginning of a career where he can direct moderately successful action thrillers.
Hunter Killer has managed to assemble an interesting assembly of talent, including Gary Oldman, Common and Linda Carellini. They're all working from a script written by Arne L. Schmidt (a producer on Chain Reaction and executive producer of xXx) and Jamie Moss (Ghost in the Shell and Street Kings), which is based on the book Firing point by retired naval officer George Wallace and author Don Keith. Plus, the production was fully support by the United States Navy. Here's the official synopsis:
Deep under the Arctic Ocean, American submarine Captain Joe Glass (Gerard Butler, Olympus Has Fallen, 300) is on the hunt for a U.S. sub in distress when he discovers a secret Russian coup is in the offing, threatening to dismantle the world order. Captain Glass must now assemble an elite group of Navy SEALs to rescue the kidnapped Russian president and sneak through enemy waters to stop World War III.
Hunter Killer hits theaters on October 26, 2018.