Whoa: 'Stranger Things' Inspires One Of The Coolest Corn Mazes Ever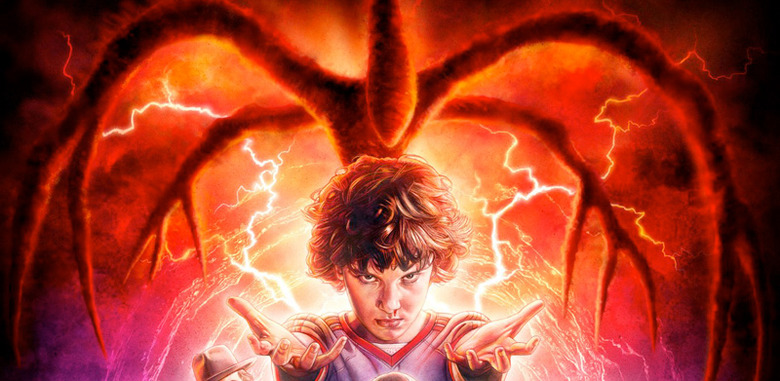 Summer is coming to a close sooner than later, which means we'll soon be seeing the return of anything and everything with pumpkin spice and Halloween decorations will be all over the seasonal aisles of your favorite stores. But it also means cool things are afoot, like elaborate corn mazes inspired by your favorite supernatural Netflix shows.
Exploration Acres, a popular destination in Northwest Indiana for pumpkin patch exploring and corn maze running, has unveiled their latest corn maze design. It's basically a corn grown poster for Stranger Things, and it's easily one of the coolest corn mazes we've ever seen.
Stranger Things Corn Maze
Somehow I've lived only a couple hours away from Exploration Acres in Lafayette, Indiana, and this is the first time I've heard of their epic corn maze designs. This latest corn maze is inspired by the second season of Stranger Things, as evidenced by Eleven with curly hair and the shadow monster in the clouds above her. On the lower half, the kids cruise on their bikes as a demogorgon follows behind them.
The maze is about 20-acres, which is the equivalent of 15 football fields, and the maze paths within add up to a total of 10 miles. It's the largest corn maze Exploration Acres has done to date. Tim Fitzgerald, president and CEO of Exploration Acres, told WTHR, "This year, new technology allowed us to plant the maze design like an inkjet printer, dropping seeds into the precise design we imagined." It's just a shame there's not a real Hawkins, Indiana for the corn maze to be in.
If you're going to be in the Indiana area and want to check it out, the corn maze will be open from September 14 through October 28. Get more details on the attractions at Exploration Acres and buy tickets at their official website.