Trailer Round-Up: 'Elizabeth Harvest,' 'Notes On An Appearance,' 'I Am Vengeance,' 'Hostile,' And 'The Night Is Short, Walk On Girl'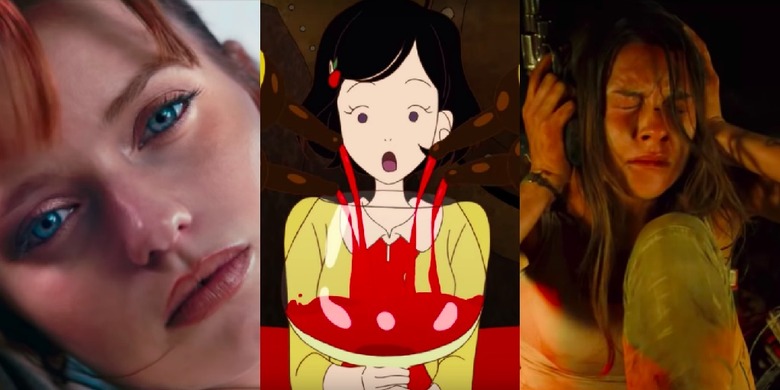 In today's trailer round-up, we dive into a suspenseful riff on the Bluebeard fable, Elizabeth Harvest, a surreal anime rom-com The Night is Short, Walk on Girl, a documentary about tennis hothead John McEnroe: In the Realm of Perfection, the war thriller I Am Vengeance, the apocalyptic survival movie Hostile, the experimental narrative film Notes on an Appearance, and the highly anticipated Dragon Ball Super: Broly anime.
Elizabeth Harvest Trailer
Elizabeth Harvest offers a modern-day twist on Bluebeard, following a young beautiful newlywed (Abbey Lee), who happily settles into her older husband's new estate — except for her nagging curiosity over the one room that she is banned from. It looks like a creepy and unsettling sci-fi movie that also stars Ciaran Hinds.
Nothing is as it seems in this brain-bending plunge into our darkest desires. Elizabeth (Abbey Lee), a beautiful young newlywed, arrives at the palatial estate of her brilliant scientist husband Henry (Ciarán Hinds). Ensconced in modernist luxury with an obedient—if slightly unsettling—house staff (Carla Gugino & Matthew Beard), she has seemingly everything she could want. But one mystery tantalizes her: what is behind the locked door to Henry's laboratory that he has forbidden her to enter? When an inquisitive Elizabeth dares to find out, everything she thought she knew about her husband—and about herself—will change. Elizabeth Harvest casts a spell of creeping Gothic menace as it unravels a disturbing tale of identity, obsession, and twisted love.
Elizabeth Harvest arrives in theaters on August 10, 2018.
The Night is Short, Walk On Girl Trailer
Visionary director Masaaki Yuasa, the weird and wacky mind behind Netflix's Devilman Crybaby and the anime masterpiece Mind Game, offers another kooky anime film with The Night is Short, Walk On Girl. But the rom-com film, which follows a cocktail-loving girl on a surreal night out on the town, stands in stark contrast to the rest of his catalogue, light and fluffy where Masaaki is known to be brutal.
As a group of teens go out for a night on the town, a sophomore known only as 'The Girl with Black Hair' experiences a series of surreal encounters with the local nightlife... all the while unaware of the romantic longings of Senpai, a fellow student who has been creating increasingly fantastic and contrived reasons to run into her, in an effort to win her heart.
The Night is Short, Walk On Girl hits U.S. theaters on August 21 and 22, 2018 through a screening partnership with Fathom Events.
John McEnroe: In the Realm of Perfection Trailer
Infamous tennis hothead received the feature film treatment with Shia LaBeouf's Borg vs McEnroe, now John McEnroe gets to be the subject of a documentary in John McEnroe: In the Realm of Perfection. Pretty good for a guy whose lasting legacy consists of the tantrums he threw on court.
Written and directed by Julien Faraut and narrated by Mathieu Amalric, JOHN MCENROE: IN THE REALM OF PERFECTION revisits the rich bounty of 16-mm-shot footage of the left-handed tennis star John McEnroe, at the time the world's top-ranked player, as he competes in the French Open at Paris's Roland Garros Stadium in 1984. Close-ups and slow motion sequences of McEnroe competing, as well as instances of his notorious temper tantrums, highlight a "man who played on the edge of his senses." Far from a traditional documentary, Faraut probes the archival film to unpack both McEnroe's attention to the sport and the footage itself, creating a lively and immersive look at a driven athlete, a study on the sport of tennis and the human body and movement, and finally how these all intersect with cinema itself.
John McEnroe: In the Realm of Perfection opens in select theaters starting on August 22, 2018.
I Am Vengeance Trailer
No, it's not a Batman spin-off, but a British revenge thriller about an ex-soldier turned mercenary who discovers a vast conspiracy while unearthing the murder of his best friend.
When ex-soldier turned mercenary, John Gold, learns of the murder of his best friend, he sets off on a mission to find out what happened. What he discovers is a sinister conspiracy and he sets about taking down those responsible one by one.
I Am Vengeance does not have a U.S. release date yet.
Hostile Trailer
Female-led survival films are all the rage today, and Hostile looks like it will be another credit to the genre. Brittany Ashworth stars as a lone woman struggling to survive after a world epidemic has devastated the planet's population, fending off hunger, thirst, a broken leg and strange monsters that roam the apocalyptic wasteland.
A worldwide epidemic has killed most of the planet's population. The few survivors struggle to find food and shelter. But they are not alone...On her way back from a scavenging mission, Juliette (Brittany Ashworth) has a terrible accident. Stuck in her car, with a broken leg, in the middle of an unforgiving desert, she must survive the perils of the post-apocalypse, while a strange creature prowls around...
Hostile opens in U.S. theaters on September 4, 2018.
Notes on an Appearance Trailer
Ricky D'ambrose's experimental narrative film more resembles a documentary than a feature, but Notes on an Appearance promises an intriguing story about a quiet young man who mysteriously disappears soon after starting a new life in Brooklyn's artistic circles. His friends search for him amid the clues that he left behind, while a parallel story about an controversial philosopher provides the sinister backdrop to their quest.
A spare, haunting, elusive, Bressonian tale of wayward intellectuals in the New York underworld.
Notes on an Appearance opens August 17, 2018.
Dragon Ball Super: Broly Trailer
The definitive anime for many a millennials' childhood is back, and Dragon Ball has got another highly anticipated feature film coming to theaters. The Dragon Ball Super: Broly trailer debuted to a rapturous crowd at Comic-Con last weekend, and now you can see the trailer about the mysterious titular Saiyan (first introduced in 1994's Dragon Ball Z: Bio-Broly) here.
This is the story of a new Saiyan. Earth is peaceful following the Tournament of Power. Realizing that the universes still hold many more strong people yet to see, Goku spends all his days training to reach even greater heights. Then one day, Goku and Vegeta are faced by a Saiyan called 'Broly' who they've never seen before. The Saiyans were supposed to have been almost completely wiped out in the destruction of Planet Vegeta, so what's this one doing on Earth? This encounter between the three Saiyans who have followed completely different destinies turns into a stupendous battle, with even Freeza (back from Hell) getting caught up in the mix.
Dragon Ball Super: Broly opens in theaters December 14, 2018.