Jane Fonda Says The Modern Workplace Is Worse Than In 'Nine To Five' And The Remake Will Address This [TCA 2018]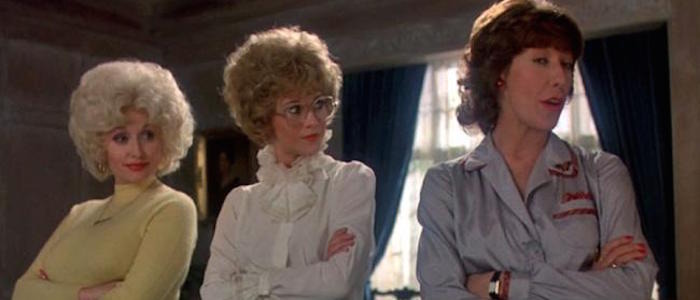 Jane Fonda was on stage for the Television Critics Association for the HBO airing of the documentary Jane Fonda in Five Acts. When a journalist asked her about the reboot of her '80s classic Nine to Five, which is currently in development, Fonda had some strong words to say about corporate America and how the new film would be able to address it.
In the original, three employees (Fonda, Lily Tomlin and Dolly Parton) conspire to get revenge on their sexist boss (Dabney Coleman), and each get to imagine their ultimate justice. Fonda is an executive producer of the remake, working with Tomlin with the new screenwriters. Rashida Jones is writing the script with original screenwriter Pat Resnick.
"I'm sorry to say the situation is worse today and I'll tell you why," Fonda said. "Back in the day, the company was called Consolidated, which it still is. You worked for the company, if you had problems you went to the company. Today, a lot of the company is hired outside and subcontracted back to Consolidated. Who do you go to? Who do you complain to? Who do you fight with?"
Reports on the reboot say a trio of new employees will turn to the original three for help with their new boss. That explains how Fonda, Tomlin and Parton would appear.
Fonda elaborated further on online difficulties today's employees face that she hopes work their way into the new plot. "Social media, the internet, computers, you can be spied on a lot more easily," she said.
Of course, the core of Nine to Five was sexual harassment in the workplace. That has unfortunately not gone away, but Fonda hopes that it will show that men are seeing the consequences of committing harassment.
"It's much worse, although I do think probably sexual harassment will tend to drop because guys are scared," Fonda said.
Fonda says she will insist that all of those themes remain in the new Nine to Five script or she simply won't be in it.
"If they're not, I'm not going to be in it," Fonda said. "Right now Dolly, Lilly and I are all intending to be in it.
Jane Fonda in Five Acts will premiere on HBO soon.