'Mission: Impossible – Fallout's Hiatus Made It The Most Expensive 'Mission' Yet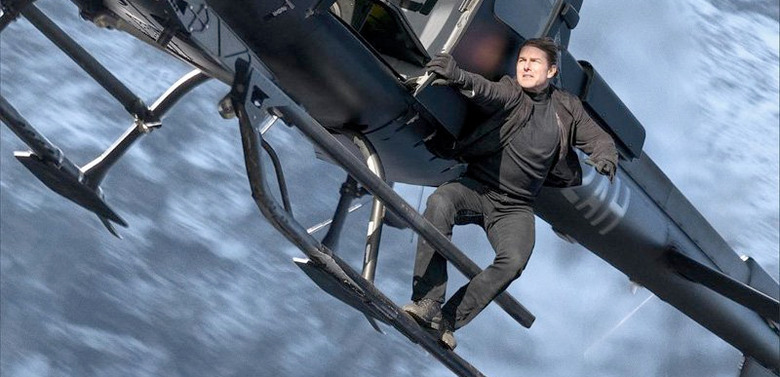 Though a new entry in a well-known franchise always feels inevitable, Mission: Impossible – Fallout hasn't had an easy path to the big screen. Early rumors suggested the movie nearly fell apart due to script issues back in 2016, and then the production hit a snag during pre-production when the producers and the studio faced off over contract disputes.
Once things finally got up and running, star Tom Cruise broke his ankle filming a stunt, necessitating a production hiatus while he recovered. That hiatus has launched the Mission Impossible Fallout budget higher than any other Mission movie – even with insurance offsetting some of its cost.
A source told The Hollywood Reporter that the upcoming spy sequel's budget hit roughly $250 million, which is about $80 million more than the price tag on 2015's Mission: Impossible – Rogue Nation. But Paramount Pictures isn't on the hook for the entirety of that $250 million. Since Cruise's injury happened on the set, insurance will step in to cover a significant portion of those additional costs, bringing the total to closer to $180 million. But even with the insurance company's help, Fallout is still the most expensive Mission yet.
The eight week hiatus didn't require any costly reshoots, but instead, "the biggest added cost for Fallout was paying the cast and crew for the eight-week hiatus so that they wouldn't take another job." Rebecca Ferguson, Henry Cavill, Simon Pegg, Ving Rhames, Alec Baldwin, Angela Bassett, Michelle Monaghan, Sean Harris, and Vanessa Kirby co-star opposite Cruise. At the time, writer/director Christopher McQuarrie was obviously concerned about Cruise's well-being, but he also found a bit of a silver lining in the delay:
"We'll assess what there is to be shot. And what we can shoot, and then what we'll do is once we've shot through that we'll go on a hiatus and then I'll shift my attention over to editorial. We've already shot a huge chunk of the movie so you're just taking a big chunk of post-production and moving it up sooner. Then we go back to shooting when the hiatus is over, which is to the full benefit of the movie. It's similar to situations I've had on other movies where, for whatever reason, you go on hiatus and you're able to look at the movie in a way you normally couldn't and reevaluate. The lesson I learned on Valkyrie, which had its share of difficulties in production, and we always used to say 'disaster is an opportunity to excel'."
And excel they did, because Fallout is not only one of the best action films of the year, but one of the best of the decade. It's full of death-defying and action sequences that will leave your jaw on the floor, as well as providing a genuinely compelling look into Ethan Hunt, his team, and the consequences of their decisions over the course of the franchise thus far. The production costs might make Paramount concerned, but if the early reaction from the film is any indication, word of mouth on this thing could be huge. They just might have a big hit on their hands.
Mission: Impossible – Fallout opens on July 27, 2018.