'Hamilton' Might Be Headed To The Big Screen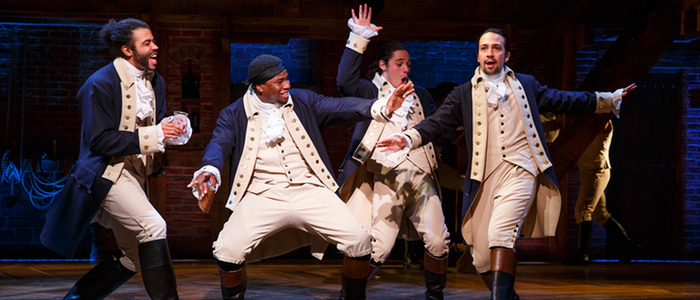 Alexander Hamilton, movie audiences are waiting in the wings for you. Hamilton is a worldwide phenomenon, and people have been wondering when the inevitable movie adaptation would be announced. Well, you might be able to see Hamilton on the big screen very soon, but not as an adaptation. Instead, a recorded version of the hit musical with the original Broadway cast is currently being fought over in Hollywood.
Hey, have you heard of this play Hamilton? It's supposed to be pretty good! I jest, of course. Everyone has heard of Hamilton, and rightfully so – the hit play from future EGOT winner Lin-Manuel Miranda is every bit as good as you've heard, and better. Miranda's musical history lesson opened on Broadway in 2015 and quickly became a box office juggernaut. As is the case with most hit musicals, many have wondered when we'd get a Hamilton movie adaptation. According to the Wall Street Journey, the answer is soon. Sort of. We'll likely have to wait a several more years before a full blown, big budget, big screen adaptation, but audiences can soon make due with a recording of the play featuring the original Broadway cast.
Miranda and company filmed a live performance of the play back in 2016, right before Miranda and much of the original cast began to depart the production one by one.
1)So far @USATODAY is the only one not burying the lede:
We're filming the original cast before I go.
WE GOT YOU. https://t.co/O7Vo9LhF7O

— Lin-Manuel Miranda (@Lin_Manuel) June 16, 2016
At the time, there was no official word about when and where the filmed version of Hamilton would pop up. Now, according to WSJ, "Hollywood studios are currently bidding for the big-screen rights" to the production, and said rights "could sell for more than $50 million, two of the people with knowledge of the deal talks said."
Whomever lands the rights to Hamilton will have to wait a few more years to screen them. The WSJ report states "Sellers are asking that the Hamilton recording not play in theaters, or stream, until 2020 or 2021, some of the people close to the deal talks said, giving the show at least two more years during which it can only be seen on stage."
In case you've been living on a distant star billions of light years from earth for the last three years, Hamilton tells the story of Alexander Hamilton, the ten-dollar founding father without a father, who got a lot farther by working a lot harder, by being a lot smarter, by being a self-starter. Miranda adapted Ron Chernow's massive biography of Hamilton, and added a unique twist: he turned it into a musical. And not just any ordinary musical – Miranda blended styles, including  hip hop, R&B, pop, soul, and show tunes to create one of the best and most successful Broadway shows of all time. The play won Miranda a Pulitzer Prize, and the production took home a slew of Tony awards (and several other awards to boot).
Not to brag (okay, maybe I'm bragging a little here), but I saw Hamilton twice on Broadway – once with the original cast, once with the cast replacements. Both times were magnificent – even having heard the full soundtrack recording beforehand, I was still blown away. I'd be happy to see the production with the original cast on the big screen, but I'll be honest – I'm much more excited for the full movie adaptation, whenever that happens. Unless they hire Tom Hooper to direct it.