'Mid90s' Trailer: Jonah Hill Makes His Directorial Debut With Coming-Of-Age Film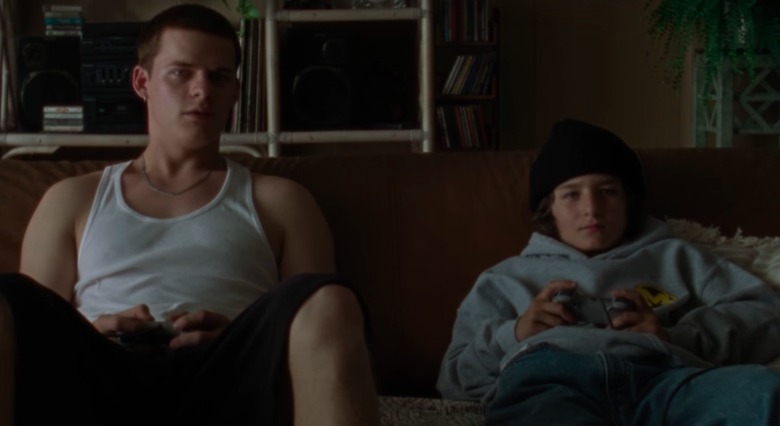 Jonah Hill has had a remarkable career arc. When he started out as a mainstay in crude comedies and broke out with the wildly raunchy Superbad, no one really expected him to go on to become an Oscar nominee — let alone a two-time Oscar nominee. Now Hill is stepping behind the camera with his directorial debut, Mid90s. Based on a script penned by Hill, Mid90s is a coming-of-age film set in — you guessed it — the '90s. See the first trailer below.
Mid90s Trailer
Mid90s is Hill's ode to '90s skater culture, following Stevie (The Killing of a Sacred Deer's Sunny Suljic), a 13-year-old growing up in LA who falls in with a group of friends he meets at a Motor Avenue skate shop. The movie takes place over the summer as Stevie navigates between his own troubled home life and the home lives of his new friends.Mid90s also stars Lady Bird's Lucas Hedges as Stevie's older brother and Katherine Waterston as their mother.
The movie trailer feels very much like a love letter to the '90s, with its grainy resolution and its Movietone aspect ratio. It's less like an inspirational coming-of-age drama and more like a gritty, lived-in film befitting its A24 label. Suljic delivers a subtle performance after his breakout in The Killing of a Sacred Deer, while Hedges plays against type with a violent, hypermasculine turn as his older brother.
Waterston doesn't appear in the trailer, but the Fantastic Beasts actress recently heaped praise on Hill's directing skills, telling Metro, "He is a brilliant director. The cast was incredible. Sunny Suljic plays my son, and he is one of the most extraordinary little creatures I have ever met. He is incredibly talented, very young and an amazing skateboarder and just a cool kid."
She summarized the plot as well, which remains fairly vague in official synopses, saying, "It is about a skateboarding kid, there's also the family story that's very intense and painful and complicated. I play the mum. But she's not a typical mom. Lucas Hedges is my other son."
Mid90s opens in theaters on October 19, 2018.