'Shazam' Trailer Breakdown: Bringing Some Magic, Comedy And Life To The DC Extended Universe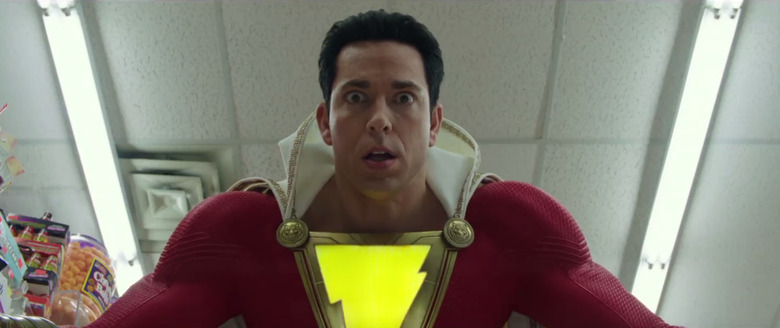 If you told me before San Diego Comic-Con started that the first trailer for Shazam! was going to impress the hell out of me, I would have said you were crazy. But here we are after the sneak peek debuted in Hall H and spread across the web like wildfire, and even after seeing the trailer a few times now, I can still say that Shazam! has quickly and surprisingly become one of my more anticipated films of 2019.
Now that the trailer is out there for everyone to sink their teeth into, we wanted to dig into this footage a little bit more. While the trailer itself is pretty straightforward, there are some interesting details to glean, including how the Shazam! movie is taking cues from the New 52 origin story of the superhero.
Shazam Trailer Breakdown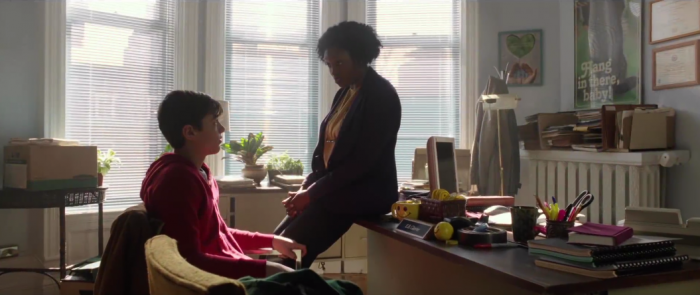 Meet Billy Batson (Asher Angel). He's a bit of a troublemaker, bouncing around foster homes in six different counties. It's a bit of a cliche for a superhero origin story, but whatever works. He's being taken to a new foster home, and his social worker tells him to try to give this one a chance, since that's exactly what this family wants to give him.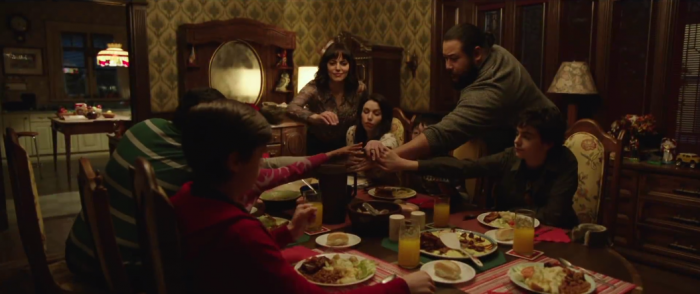 A quick shot shows us there's a closeness in this foster family, led by Cooper Andrews and Marta Milans, and before dinner they all reach their hands into the middle of the table, seemingly as a way of saying grace. As you can see Billy isn't exactly ready to become chummy with his new family just yet. He's still got that loner, rebel attitude inside of him and he's just dying to turn 18 so he can take care of himself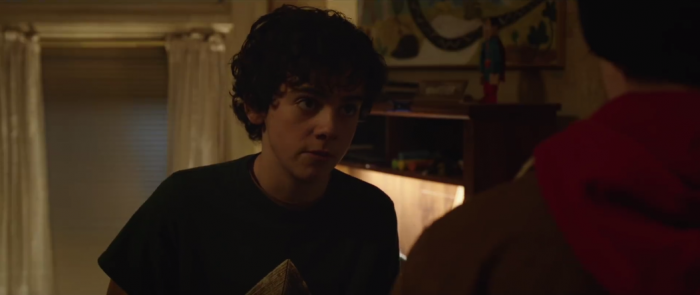 Part of that family is Freddy Freeman, a disabled foster kid played by Jack Dylan Grazer. Clearly this kid isn't letting life get him down as he has no problem joking around with Billy as soon as he arrives, tossing around a Game of Thrones reference for good measure. But Freddy isn't nearly as obsessed with the HBO fantasy world as he is with superheroes.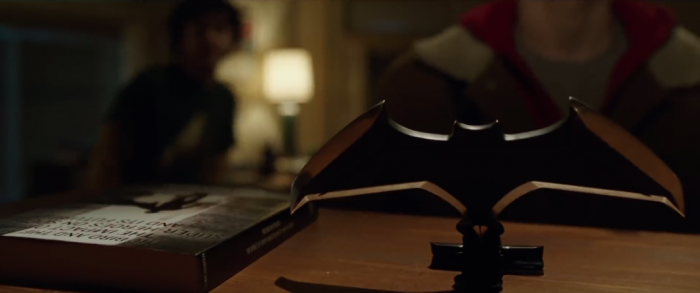 In Freddy's room, there's a Batarang on display, perhaps something he recovered from a crime scene. That would require some skill on his part since Freddy lives in Philadelphia and Gotham City would presumably be a long trek away. Then again, maybe's it's just a replica of a real Batarang. Next to it there's a book about how superheroes are having an impact on the world. This is clearly where Freddy's interests lie.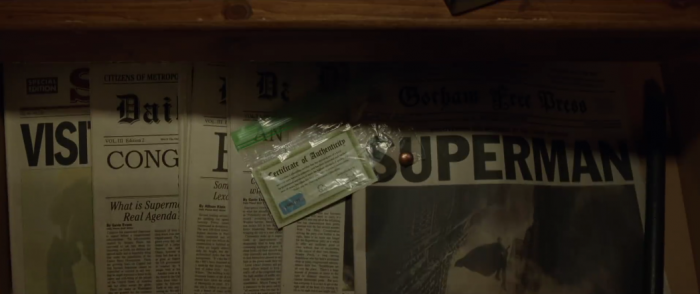 The references to the DC Extended Universe don't end there. Freddy has also been collecting newspapers from The Daily Planet and the Gotham Free Press whenever they do a story on Superman. It looks like he even has a bullet shell that was presumably deflected off Superman at some point, complete with a certificate of authenticity.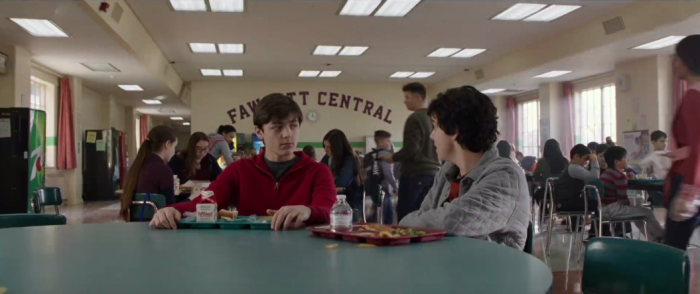 Freddy loves superheroes so much that he can't stop talking about them at school either. He tries to have a fun conversation with Billy about what superpower he'd want, and all Billy wants to do is get out of the conversation as soon as possible.
Also, check out the background for a little Easter egg reference to Shazam's comic book origins. Notice how it says Fawcett Central in the background? Obviously that's the name of the school, which itself is a reference to Fawcett Comics, the original publisher of the Shazam comics, back when he was known as Captain Marvel. In the comics, the story of Billy Batson is based in Fawcett City, so this is a slightly different kind of tribute.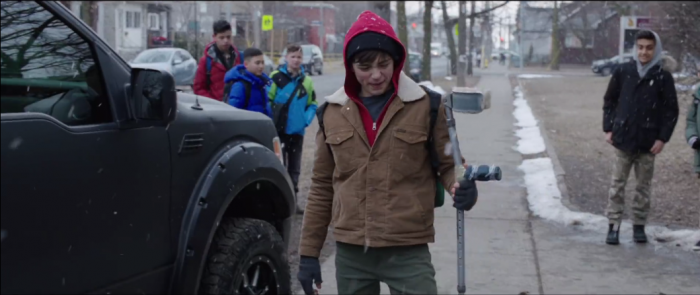 Though Billy may be doing everything he can to distance himself from Freddy and the rest of his foster family, he can't help but do the right thing by stopping some bullies from picking on Freddy. It sounds like these guys maybe tried to mess with Freddy before, but his foster siblings maybe stopped them. Seems like they weren't expecting Freddy's new foster brother to do anything about it this time, but they got a dose of their own medicine.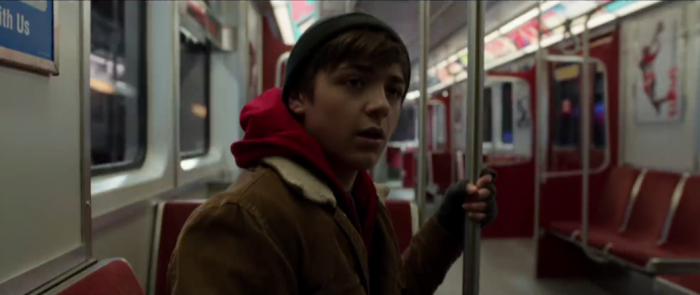 Billy tries to make a quick getaway on the subway. This scene draws inspiration directly from the New 52 comics, which in itself is a reference to the original 1940 introduction of the character when Billy was an orphaned newsboy forced to sleep in a subway station until he is imbued with the powers of a wizard in a magical subway car.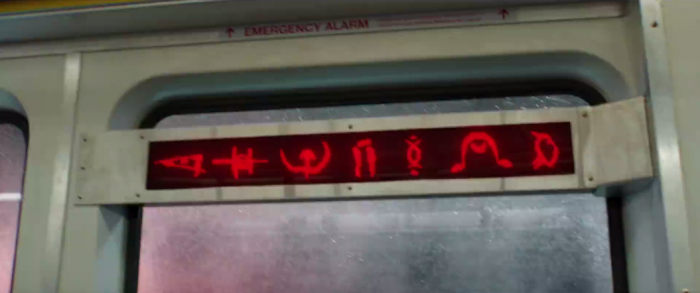 It's not clear if the subway car itself is magical, or maybe the wizard is just using his magic to transport Billy to where he needs to be, but some ancient symbols pop up on the light-up destination box which indicate something isn't quite right about this train ride.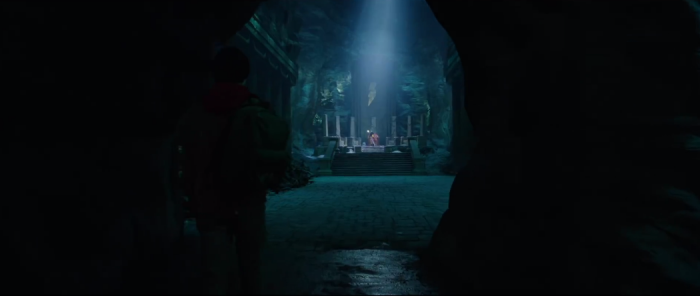 Indeed, Billy ends up in the Rock of Eternity, a cave that serves as the lair of the wizard whose name we will learn in just a moment. In the comics, this lair is also said to be the prison of the Seven Deadly Enemies of Men, powerful demons trapped in statues, and it looks like you can see some of them surrounding the seven stone thrones in the distance where a banner featuring the lightning bolt of Shazam hangs.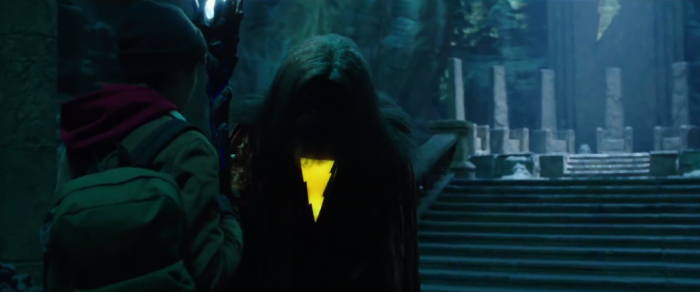 The mysterious figure sitting in the center throne eventually approaches Billy, who is a little freaked out. The wizard is a little impatient, and in the comics it's because he can tell Billy isn't all that great of a kid. But time is of the essence, so he quickly tells him how to gain all of his magical powers, and it's simply by saying the name Shazam.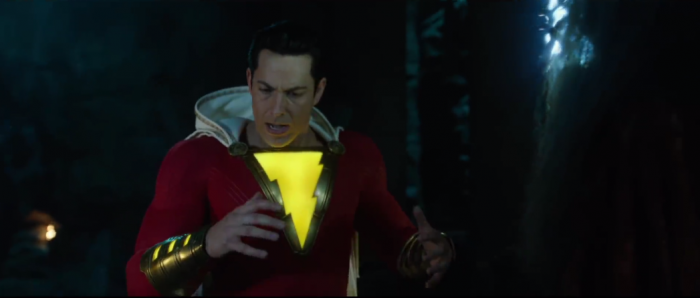 That might seem silly, but it's enough to turn young Billy Batson into a grown man (Zachary Levi) with muscles to spare, a skin-tight red suit with a glowing yellow lightning bolt, gold gauntlets and boots, and a flowing white cape with a hood. These powers comes courtesy of Solomon, Hercules, Atlas, Zeus, Achilles and Mercury, the gods who not only spell out his name but also grant him wisdom, strength, stamina, power, courage and speed.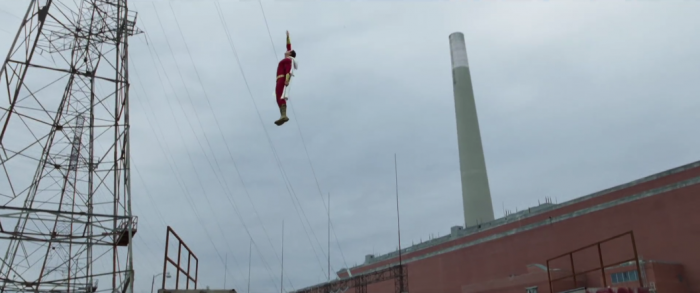 However, wisdom seems to be in short supply at first, because in his new grown up form, he freaks out and seeks assistance from the only person he knows who might have any idea of how this superhero stuff works. Freddy can't help but be excited, and the two do what any kids would if one of them could turn into a superhero: figure out what superpowers he has.
Flight seems to be the one that Billy has trouble figuring out, but he has no problem punching through a concrete pillar with ease. And now that Billy has the upper hand in his new body, he has some work to do.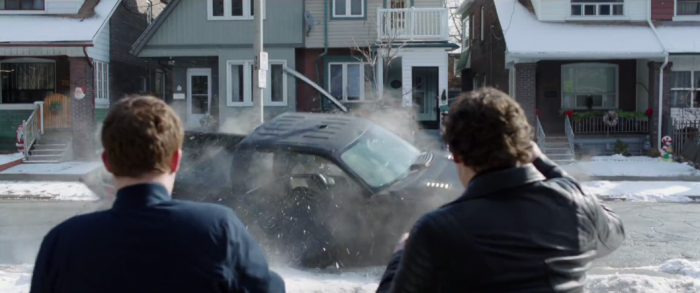 That includes smashing the truck of the bullies who messed with Freddy earlier in the trailer. It drops down from the sky, so either that means Billy has mastered how to fly and use his super strength at the same time, or maybe he just tossed it into the air from the ground and let it land ever so gracefully in the street. Either way, payback is a bitch.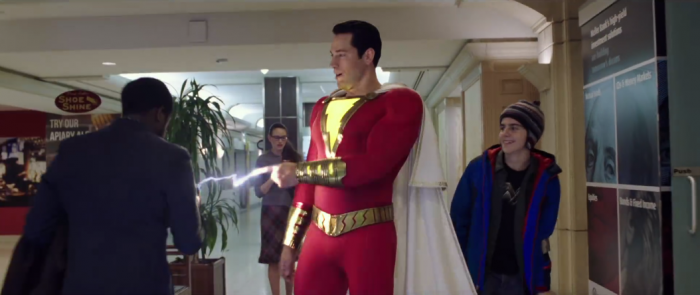 Billy also isn't shy about showing off his powers in public as he shoots lightning into the cell phones of strangers passing him by, apparently giving them a fully charge. Of course, one of those charges ends up messing up a stranger's phone and pissing him off. You can't please all the people all the time, I guess.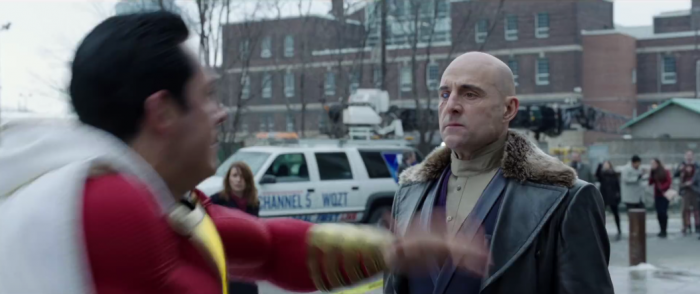 One of the people that Billy will have a hard tme pleasing is Dr. Thaddeus Sivana (Mark Strong). The trailer doesn't give us any indication of who this guy is or what he's up to, but we do learn one important thing about him: he has superpowers of his own. Billy realizes that he's a bad guy and tries to punch him, but Sivana effortlessly stops his superpowered punch, catching Billy off guard entirely. It looks like he's not as invincible or strong as he thought.
If you look closely, you'll notice that Sivana has a unique right eye. In the comics, Sivana is imbued with the power of Black Adam, a villain not entirely unlike Shazam. When Sivana glimpses the magic inside the tomb, he's half-blinded by lightning and thus has a glowing eye. That eye also allows him to see magic, which might explain why he's ended up in the presence of Shazam. Dwayne Johnson has said Black Adam won't be appearing in Shazam, so don't expect Sivana to turn into a superhero of his own, but clearly there's more here than meets the eye (pun intended).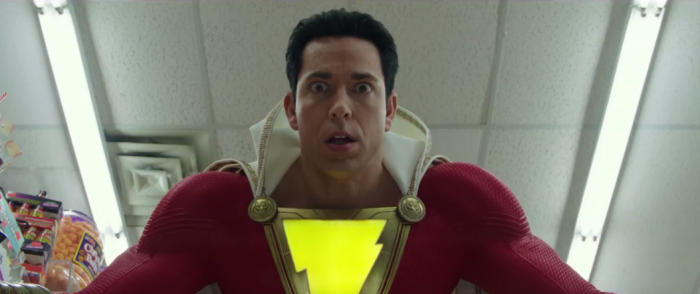 We're not given much time to register the threat that will be Dr. Sivana, because we move on to the final scene of the trailer, where Billy (in Shazam form) and Freddy are in a convenient store when two men try to rob the place. Here they're happy to learn that Shazam is impervious to bullets, and he quickly dispatches with the robbers out the front window.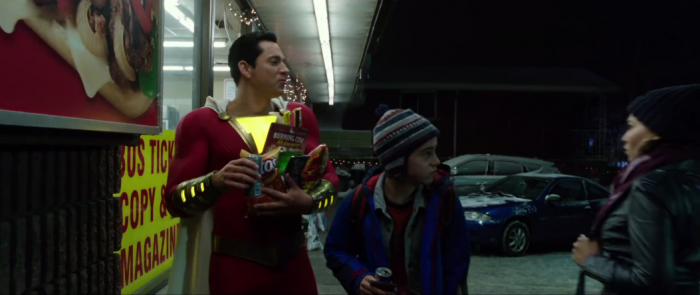 Shazam and Freddy walk out the front door, loaded with snacks, as the former brags to a woman passing by that he's a superhero. It's such a typical cocky teenager thing to do, and I love that they're carrying the most innocent items from the convenient store like Fritos, beef jerky and pop. Of course, that doesn't mean they weren't trying to be a little less innocent before the robbery. In the comics, the two are trying to use Billy's new adult form to buy some beer, so that might still be part of the movie, but it's nice to see they changed their minds and got some snacks instead.
***
Having rewatched this trailer several times for this breakdown, I can't stress enough how surprisingly pleased I am with this first trailer. It gives us a taste of something that we haven't seen in the DC Extended Universe before. It's vibrant, fun, hilarious and has a new kind of life thanks to director David F. Sandberg. This is exactly the kind of movie that Warner Bros. needed to add to the DC Comics universe on the big screen after all the darkness that Zack Snyder brought to it with Batman v Superman: Dawn of Justice and Justice League.
Shazam! zaps into theaters on April 5, 2019.