'Supergirl' Has Cast Nicole Maines As Television's First Transgender Superhero – And That's Incredible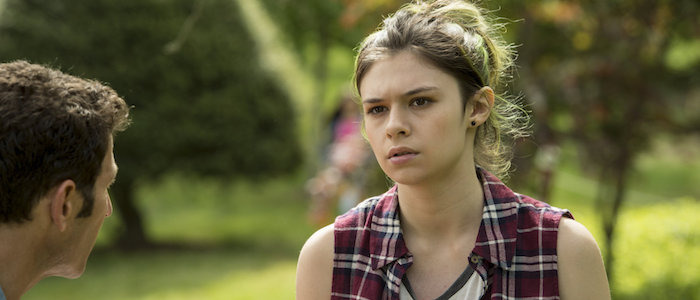 With the casting of transgender activist and actress Nicole Maines in season 4 of Supergirl as Nia Nal, history is being made. Maines will become the first transgender superhero in the history of television.
Known mostly for being an activist, Maines is no stranger to appearing in TV or film. She appeared in a guest-starring role in a 2015 episode of Royal Pains. On the documentary side, Maines was one of many people profiled in HBO's The Trans List. This past summer, Maines wrapped production as Laurel in the Brad Michael Elmore-directed Bit.
What we know about Nal from the press release is that she's new to the CatCo reporting team and described as "a soulful young transgender woman with a fierce drive to protect others." Her character's journey into the superhero Dreamer is drawing some comparisons to that of Kara's journey to become Supergirl.
It shouldn't be a surprise that Supergirl is the television series to make this history. I say this because so many transgender women see a bit of themselves in Supergirl. As Kara Danvers at CatCo, she has a secret so big that she can't tell anyone. Away from CatCo, Kara transforms into the majestic beauty that she really is: Supergirl.
When the casting call was issued in May, there was nothing about Nal becoming a superhero. All that was in the casting call was that the character was a transgender woman in the same mold of Cat Grant. When I learned the news during San Diego Comic-Con over the weekend, tears started to stream down my face. It was big enough that the series was adding a transgender character, but learning that Nia Nal is to become the superhero Dreamer took me to a surreal place. It's been a big fight for transgender representation on screen and we're getting our first superhero!
Maines gets to represent all of us on the CW series.  It's a huge opportunity in that regard, but it also comes with a lot of pressure in representing the transgender community. It's an opportunity that I wish had come about years ago in the late '90s, when I was only beginning to struggle with my gender identity. The fact that Nal is on a path to become a superhero sends a strong message to trans youth.  Trans youth are among the most vulnerable population – they need the right support system, including parents, to survive. And here comes Nia Nal's Dreamer and the message that we can be superheroes!
I think about my own life and how a move like this would have benefited me. It also shows just how far we've come in the last 20 years. While some casting practices are in the need of change, casting trans actors in trans roles go a long way. It helps for the transgender population to be properly seen, for media to show that we aren't just dressing up for pretend – it's who we are. At the end of the day, we don't have a costume to take off.
The actress sat down with Variety shortly after the casting announcement broke.  "I'm nervous because I want to do it right," Maines told Variety's Debra Birnbaum.
"We can be whoever we want, we can do whatever we want, we can be superheroes, because in many ways we are," Maines said during the Variety interview. "We've had trans representation in television for a while but it hasn't been the right representation."
Maines is right in that regard. It wasn't until recently that the transgender community started to be portrayed in the right light.  This demands another question: will The CW go so far as to hire a transgender writer?  Nothing would send a stronger message, than have these characters' stories being told by trans writers who have lived similar experiences. It would be a move that would go as far to help the transgender character be better represented.  It will also go a long way to opening the door for more trans writers in the industry.
Our characters do need to be more about just us being trans, as Maines says. A character's coming out may forever alter a series, but it shouldn't define us any less than our everyday activities.  Speaking personally, there are things that define me almost as much as my gender identity, if not more.
If Nicole Maines' portrayal of Nia Nal can help those trans youth who are struggling with their identity, it will have all been worth it.