'Disenchantment' Trailer Brings 'Futurama'-Style Humor To A Fantasy Setting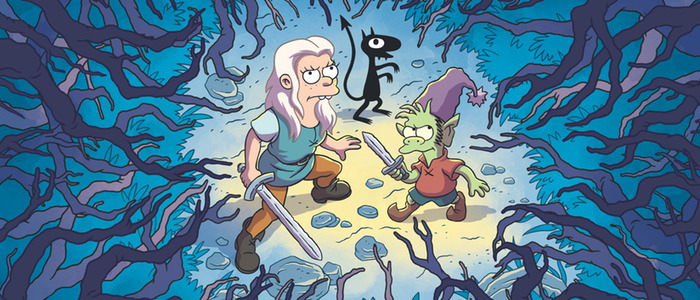 Matt Groening, creator of The Simpsons and Futurama, heads to Netflix with Disenchantment, a very-funny looking new animated series set within a fantasy realm. Groening and his team appear to be creating a series that owes more to Futurama than it does The Simpsons, right down to the voice actors and animation style. Watch the hilarious new Disenchantment trailer below. 
Disenchantment Trailer 
Well, gosh darn it, this looks like a heck of a lot of fun. Futurama was one of the all-time great animated shows, and the tone and style of Futurama seems to have been transplanted over to Disenchantment. In the series, alcoholic Princess Bean (voiced by Broad City star Abbi Jacobson), sets out on a series of misadventures in her enchanted kingdom of Dreamland. Along the way, Bean is accompanied "by her feisty elf companion Elfo, and her personal demon Luci."
This trailer promises more of the irreverent, off-beat, yet surprisingly touching humor that Groening and company perfected on The Simpsons and Futurama. Amidst all the shenanigans and sight-gags, there's a brief moment where Bean asks, "What's this strange feeling that I don't want to drink away?" It's a funny line, and yet at the same time, it hits you just a little too hard. I wasn't expecting this series to have moments like that, and now I'm pleasantly surprised. There also appears to be a strong theme about claiming independence running through this footage – Bean doesn't just want to be a princess; she wants to forge her own destiny. Everything on display here works, and works damn well.
"The princess is a perfect example," executive producer Josh Weinstein said at a panel at Comic-Con. "It used to be like the Disney princess, but also, I think a lot of writers make the mistake too of going the other way–it's like, 'She's totally kick-ass and she's perfect.' So we wanted to bust that trope and actually make, what if the princess were just like, a realistic 19-year-old young woman?"
Also: I really dig the instrumental cover of David Bowie's "Rebel Rebel" that accompanies this trailer.
In addition to Jacobson, Disenchantment features the voice talents of Eric Andre ("Luci"), and Nat Faxon ("Elfo") along with John DiMaggio, Billy West, Maurice LaMarche, Tress MacNeille, David Herman, Matt Berry, Jeny Batten, Rich Fulcher, Noel Fielding, and Lucy Montgomery.
Disenchantment hits Netflix August 17, 2018.
From the mind of Matt Groening, comes the 10-episode adult animated comedy fantasy series, Disenchantment, launching on Netflix, August 17, 2018. In Disenchantment, viewers will be whisked away to the crumbling medieval kingdom of Dreamland, where they will follow the misadventures of hard-drinking young princess Bean, her feisty elf companion Elfo, and her personal demon Luci. Along the way, the oddball trio will encounter ogres, sprites, harpies, imps, trolls, walruses, and lots of human fools.