'Shazam!' Brings Big Heroics And Bigger Laughs To The DCEU [Comic-Con 2018]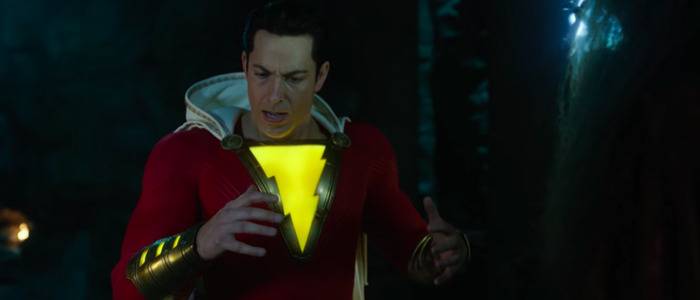 One thing was immediately clear about Shazam! during the film's Comic-Con panel: this is a new kind of DC movie. After years of dreary and dark comic book tales, here is a film that is essentially Big meets Superman and the trailer makes it look like a blast. And if the panel is any indication, the film was also a total blast to make.
Shazam! is built around a charming premise: what if a pre-teen boy named Billy Batson was granted mystical powers from an ancient wizard and could transform in a musclebound superhero just by uttering his name? That's wish fulfillment personified and Zachary Levi, who plays the "adult" version of the character, said that is the main appeal. "This is 14-year old me who got to put on spandex and a cape and fly around." The whole movie is a childhood fantasy brought to life.
After that brief introduction, the trailer premiered before a packed Hall H to an enthusiastic reaction. Shazam looks fun and it looks funny – this is as much a comedy as it is a comic book movie. And while it is clearly set in the DC Extended Universe (one character is a superhero enthusiast and has his own Superman and Batman collections), it's a clear and confident case of course correction. This movie looks like it puts fun first and foremost.
When the footage finished, Asher Angel, who plays the non-superhero version of Billy Batson, and It star Jack Dylan Grazer, who plays Bill's foster brother, took the stage alongside director David F. Sandberg. The first question went to Sandberg, who had previously helmed the horror hit Lights Out. So, why a superhero movie? "It's a really fun movie," he explained. "I've tried to insert a lot of fun moments in my previous films. This was a chance to go bigger with that."
While two of the leads are actual children, everyone agreed that Levi was "the biggest kid on set." That also helped him stand out in the audition process. Sandberg says over 100 actors went out for the part but, "When I saw his first tape, it was just perfect. He feels like a big kid. Lots of adults would play a kid in an adult's body as dumb, but Levi choose to play him as enthusiastic and that made all the difference."
"There are very few characters that are just super-stoked to have powers and have the responsibility that comes with that power," Levi said. Billy Batson is essentially the Peter Parker of the DC Universe – always amazed by what he can do. But could Shazam take down the Justice League? Per canon, Shazam is one of the only characters who can stand toe-to-toe with Superman, Levi said. Should be interesting to see how those tones mesh when they inevitably meet on screen.
***
Zachary Levi stars as the title hero (trivia: he was originally known as Captain Marvel in the comic books), and although he may be the man in the cape and tights, he's technically not the true protagonist. That honor falls on young Billy Batson (Asher Angel), a boy who is given superpowers by a mysterious Wizard (Djimon Hounsou) that enable him to transform into the adult superhero.
In a big change of pace for the often-grim DC movies, this film wisely focuses on Billy Batson's wide-eyed wonder and sheer fun at realizing he can become a superhero. Levi, Angel, and Hounsou are joined by Jack Dylan Grazer and Mark Strong in the ensemble cast.
Here is the film's official synopsis:
We all have a superhero inside us, it just takes a bit of magic to bring it out. In Billy Batson's (Angel) case, by shouting out one word—SHAZAM!—this streetwise 14-year-old foster kid can turn into the adult Super Hero Shazam (Levi), courtesy of an ancient wizard. Still a kid at heart—inside a ripped, godlike body—Shazam revels in this adult version of himself by doing what any teen would do with superpowers: have fun with them! Can he fly? Does he have X-ray vision? Can he shoot lightning out of his hands? Can he skip his social studies test? Shazam sets out to test the limits of his abilities with the joyful recklessness of a child. But he'll need to master these powers quickly in order to fight the deadly forces of evil controlled by Dr. Thaddeus Sivana (Strong).
Shazam! opens in theaters on April 5, 2019.