'The LEGO Movie 2' Features Chris Pratt In Two Roles And Tiffany Haddish As A Shapeshifting Alien [Comic-Con 2018]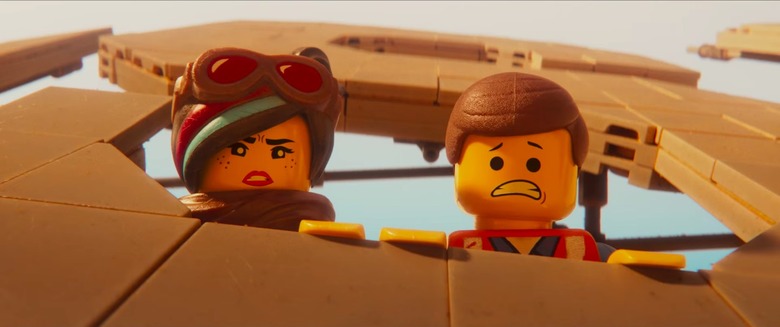 Warner Bros. brought the cast and crew of The LEGO Movie 2: The Second Part to Comic-Con for a brisk panel, letting the cast riff before showing off new footage. Anyone hoping that the sequel will maintain the anarchic spirit of the first movie will be very pleased by what was on display here.
The panel opened with an animated segment, complete with a LEGO minifig version of panel moderator Aisha Tyler. An introduction by Emmett (Chris Pratt), Wyldstyle (Elizabeth Banks), and Batman (Will Arnett) is interrupted by the arrival of Jason Momoa's bro'd out Aquaman. However, this is news to Batman, who shouts that the real Aquaman is a blonde nerd. Cue the classic Aquaman showing up to wave hello. It was all very silly and pleasant and a reminder that this whole thing works far better than it should.
With the video over, the cast and crew took the stage, including writer/producers Chris Lord and Phil Miller. The duo set up the premise: it's five years after "Taco Tuesday" and Bricksburg has fallen into post-apocalyptic chaos following an extended war with invading aliens. It has become a "heckish" place to live.
"We wanted the movie to pick up where the first one left off and tell a story of combining two different imaginations," Miller said. "It's a metaphor!" Lord jokingly clarified. Now that Finn (the live-action kid from the first movie) has let his sister into his world, it's a completely different universe. Naturally, much of the movie takes place in the "Sistar System." Sistar. Get it?
After the cast shared some LEGO stories (new cast member Stephanie Beatriz noted that the scar on her eyebrow came from tripping on LEGOs as a kid – "Dreams come true!"), the panel segued into a new batch of footage. Not quite a trailer, it introduced a handful of new characters and showed off some of the wild worlds the cast will traverse.
The footage opens in a post-apocalyptic setting, with Wyldstyle looking over the wasteland, grimly monologuing about their fight to survive. The surrounding city is wrecked. "Everything was awesome...now everything is bleak," Wyldstyle intones. Her grim-dark moment is interrupted by Emmett, who arrives bearing coffee, as cheerful as ever.
Then aliens invade and the citizens flee into giant vault while Batman battles the creatures in a giant mech suit (it's as awesomely silly as it sounds). However, the massive vault doors can't close – an adorable star LEGO is trapped in it. "So cold," it says with a quivering voice. Naturally, Emmett opens to the door to save it, the alien leader gets in, and Wyldstyle and a bunch of other familiar faces from the first movie are abducted. Whoops.
Emmett suggests a rescue mission. A LEGO minifig version of Margot Robbie's Harley Quinn calls it a "suicide mission." Get it?
Anyway, Emmett ventures into space on his own and we meet a brand new character: Rex Dangervest, also voiced by Chris Pratt. Rex is a galaxy-saving archaeologist and, uh, raptor trainer. In other words, he is the "cool" version of Chris Pratt, while Emmett is the nerdy, Parks and Recreation version. Still, they quickly become buds – Rex has heard of "the special" and is ready for a team-up. They even have a similar fashion sense, which Rex's raptor buddies pick up instantly. "Vest friends!" one of them growls in subtitles.
We then catch up with Wyldstyle and company, who are brought before a colorful talking LEGO horse played by Tiffany Haddish. No one seems cool talking to the LEGO horse, so she transforms into a tentacled monstrosity. "The horse was much more palatable," Batman deadpans.
The cast of The LEGO Movie 2 includes Chris Pratt, Elizabeth Banks, Will Arnett, Alison Brie, Nick Offerman, Tiffany Haddish, Charlie Day, and Stephanie Beatriz. Here's the synopsis for The LEGO Movie 2: The Second Part:
The much-anticipated sequel to the critically acclaimed, global box office phenomenon that started it all, "The LEGO® Movie 2: The Second Part," reunites the heroes of Bricksburg in an all new action-packed adventure to save their beloved city. It's been five years since everything was awesome and the citizens are facing a huge new threat: LEGO DUPLO® invaders from outer space, wrecking everything faster than they can rebuild. The battle to defeat them and restore harmony to the LEGO universe will take Emmet, Lucy, Batman and their friends to faraway, unexplored worlds, including a strange galaxy where everything is a musical. It will test their courage, creativity and Master Building skills, and reveal just how special they really are.
The LEGO Movie 2 opens in theaters on February 9, 2019.