'Shazam!' Trailer: Zachary Levi Is A Kid In A Big Superhero Body [Comic-Con 2018]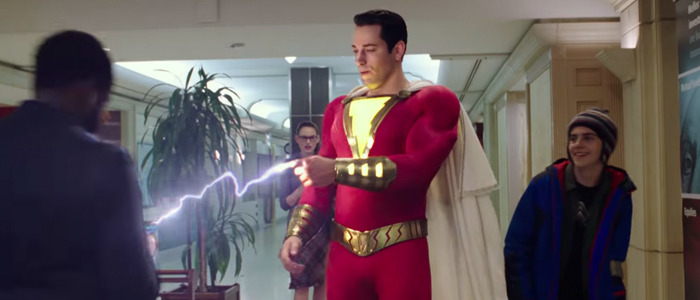 Warner Bros. has been struggling with the direction of its DC film universe lately, but with the oncoming release of Shazam!,the future looks bright. The studio released the first Shazam trailer during the San Diego Comic-Con panel for the superhero movie starring Zachary Levi, and it suggests we could get a thoroughly entertaining (and funny) DCEU movie.
Shazam Trailer
The beauty of the superhero genre is that you can mix it with almost any other movie genre. A spy thriller? A heist movie? A Western? You got it! But just when it seems like comic book movies have exhausted this kind of genre-bending twist, in comes Shazam! which imagines: What if Big, but superheroes?
Zachary Levi stars as the titular Shazam (originally called Captain Marvel in the comics), but he's not the real protagonist. That would be Billy Batson (Asher Angel) a young orphan boy who is given superpowers by a mysterious Wizard (Djimon Hounsou). These powers enable Billy to transform into the adult superhero Shazam by shouting some magic words that may or may not be "Shazam!"
The film wisely focuses on Billy's ecstatic reaction to being turned into a full-fledged superhero, but also on his friendship with Freddy Freeman (It's Jack Dylan Grazer), a fellow orphan who becomes Billy's accomplice. Shazam also stars Mark Strong as the villain Dr. Thaddeus Sivana.
Here is the synopsis for Shazam!:
We all have a superhero inside us, it just takes a bit of magic to bring it out. In Billy Batson's (Angel) case, by shouting out one word—SHAZAM!—this streetwise 14-year-old foster kid can turn into the adult Super Hero Shazam (Levi), courtesy of an ancient wizard. Still a kid at heart—inside a ripped, godlike body—Shazam revels in this adult version of himself by doing what any teen would do with superpowers: have fun with them! Can he fly? Does he have X-ray vision? Can he shoot lightning out of his hands? Can he skip his social studies test? Shazam sets out to test the limits of his abilities with the joyful recklessness of a child. But he'll need to master these powers quickly in order to fight the deadly forces of evil controlled by Dr. Thaddeus Sivana (Strong).
Shazam! opens in theaters on April 5, 2019.