'The Expanse' Is Now On Amazon Prime, Which Means (Among Other Things) That Avasarala Can Swear [Comic-Con 2018]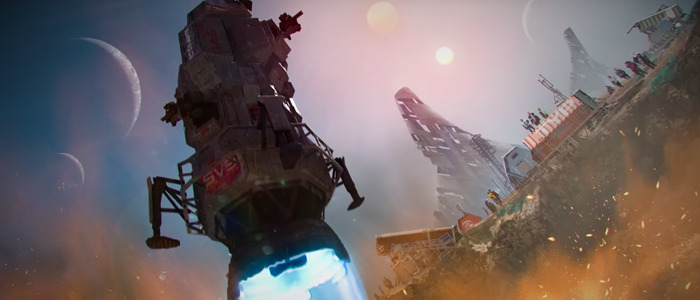 Thanks to fans' above-and-beyond efforts, which included flying a plane over Amazon Headquarters, Amazon picked up The Expanse after it was cancelled by SyFy earlier this year. Showrunner Naren Shankar took to the stage in San Diego Comic-Con's Ballroom 20 to celebrate this news and celebrate the upcoming season 4. Check out a video from the cast and our reaction to The Expanse Comic-Con panel below.Based on the screams, the room was rife with Expanse fans as Shankar took the stage, and the audience was treated with a short "Thank You" clip from Expanse actors Steven Strait, Cas Anvar, Dominique Tipper, Wes Chatham, and Nadine Nicole, executive producer Mark Fergus, and Ty Franks, executive producer of the show and one half of the team who wrote the books on which the series is based.
Shankar also hinted on what fans can expect in Season 4. "We're in the second big movement in the books," he explained. "It's a new chapter in humanity's history. We're no longer constrained with just being able to go in the solar system. How humanity deals with this vast new frontier, a situation where resources are being constrained...that's the big next chapter."Moving to Amazon is also a big next chapter for the series. The move means that the show has fewer restraints than it did on SyFy. "What's great about being on Amazon is we no longer have language restrictions," Shankar said. "Chrisjen Avasarala is going to swear like a sailor...and we also don't have nudity restrictions."Everyone loves nudity, and Avasarala being able to drop F-bombs left and right caused all The Expanse fans, this one included, to cheer long and loud. After all, in space, no one can hear you swear anyway. Right?The Expanse Season 4 comes to Amazon Prime Video in 2019.