Amazon's 'Jack Ryan' Is Not Your Uncle's 'Jack Ryan'; Here's Our Reaction To The Premiere Episode [Comic-Con 2018]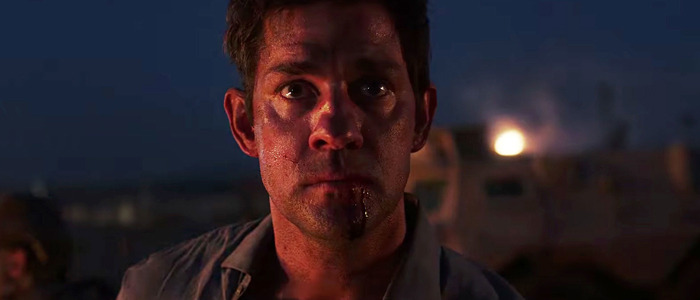 Amazon Prime held a two-hour panel at Comic-Con highlighting a slew of upcoming shows, including their most marketed series of the convention, Jack Ryan. In the latest adaptation of Tom Clancy's best-selling novels, Amazon's Jack is played by John Krasinski, the fifth actor to take on the role (previous Jacks include Alec Baldwin, Harrison Ford, Ben Affleck, and Chris Pine) and the first to play the role in an episodic series instead of a movie. Read on for highlights from the Jack Ryan Comic-Con panel, including our reaction to the first episode.
Carlton Cuse, one of the co-creators of the show, was on stage to talk about Jack Ryan and said that they chose Krasinski because of his performance in 13 Hours. "We were super impressed with him as an action hero in that, and that's why we cast him in our show," Cuse said. He went on to explain that the show is "a prequel to the books and to the movies, and it starts with Jack Ryan having worked at the CIA for about three years. He's a guy working in a cubicle in an office, something I think that we relate to...and then he goes on to his first op, and that's really the journey of the first season of the show."
But the audience didn't have to rely solely on Cuse's description of the title character. After the first hour of the panel, Cuse invited fellow co-creator of the show Graham Roland on stage, and the duo they announced that we would see a screening of the entire first episode of Jack Ryan.
The episode was fun, especially if you're a fan of other thriller-style shows like 24. Unlike 24's anti-hero Jack Bauer, however, Jack Ryan is pure hero (even though he doesn't wear a helmet when riding a bike on DC's crazy streets). And perhaps we need a hero like Jack right now, a guy who has morals and actually sticks to them. Krasinski successfully portrays this in the first episode, with a hint of PTSD and a flash of his six-pack mixed in to keep things interesting. Without getting into spoiler-level specifics, the first episode also sets up the bad guy quite well, explaining why he's become who he is.
Based on the applause at the end of the episode, the audience enjoyed the show. And Amazon is banking that those outside of Comic-Con will like it as well – the cast is already shooting the second season in Bogota, and Cuse explained that Season 2 would be more of a South American-based political thriller compared to the first season's focus on the Middle East. The show also cast a new female lead for season 2: Swedish actor Noomi Rapace, who according to Cuse, will play "a very formidable person who is also in the world of intelligence who crosses paths with Jack Ryan."
So buckle up and get ready for at least two seasons of Jack Ryan coming your way. Let's hope that Jack learns to wear a helmet by the end.
Season 1 of Jack Ryan hits Amazon Prime Video on August 31, 2018.