'Captain Marvel' Writer Kelly Sue DeConnick To Pen 'Aquaman' Comic With Artist Robson Rocha [Comic-Con 2018]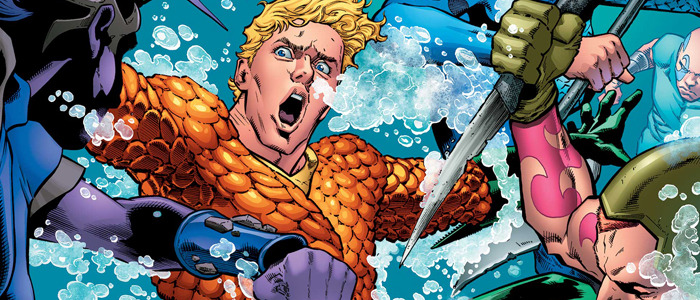 DC Comics has been assembling a stellar lineup of creators as of late. Marvel mainstay Brian Bendis recently relaunched Superman with artists Joe Prado and Ivan Reis, while Ms. Marvel writer G. Willow Wilson is set to take over duties on Wonder Woman with Cary Nord this year. Add to that Grant Morrison and Liam Sharp's Green Lantern re-imagining and you already have a veritable all-star team, but the powers that be over on the WB lot aren't quite done shaking things up.Ahead of Aquaman's big-screen outing this December, DC is going to re-tell the Atlantean king's origin under the authorship of writer Kelly Sue DeConnick (Captain Marvel) and artist Robson Rocha (Green Lanterns).During yesterday's DC press breakfast at San Diego Comic-Con, DC Comics co-publishers Jim Lee and Dan Didio let slip that DeConnick would be taking over Aquaman later this year and giving Arthur Curry a bit of a re-examination. Lee even compared the new telling to landmark works such as Frank Miller's Batman: Year One and Daredevil: Born Again!Now, that's probably what you'd expect them to say. Superhero relaunches aren't exactly rare, with the likes of Lee and Didio having helmed the last handful since the New 52 in 2011. But while this may not seem like the most exciting news on the surface, Kelly Sue DeConnick happens to be one of the absolute best writers in all of western comics. Speaking to Entertainment Weekly about the new Aquaman comic, Lee revealed the following about DeConnick's approach:
"She started talking about him having mother issues because his mother came from the sea and leaves him, so every day he goes to the pier and looks for his mother and communicates with all the sea life and asks them. He can command them to come to him, but the only person that he can't command is his mother. What kind of hole does that leave him in his psyche?"
Outside the superhero genre, Kelly Sue DeConnick created unique works like the surrealist western Pretty Deadly with Emma Rios and the fiery, feminist Blaxspoitation-homage Bitch Planet with Valentine DeLandro. Within the genre? Well, DeConnick's Carol Danvers has only been Captain Marvel since 2012 and she's already getting her own Marvel movie; that level of impact speaks for itself. (Her work on Avengers Assemble is pretty great too.)No release date has been announced for the re-telling, though DeConnick confirmed on Twitter that the series wouldn't be resetting to issue #1, but rather that she'd be picking up from issue #43. This is particularly interesting from a timing perspective, as writer Dan Abnett and artist Joe Bennett are currently solicited through at least issue #40 on September 19, 2018. Given the series' monthly schedule, this first new issue under DeConnick and Rocha ought to arrive around the same time as James Wan's Aquaman movie on December 21, 2018.