'Spider-Man: Into The Spider-Verse' Brings Multiple Dimensions Together, Including Spider-Ham [Comic-Con 2018]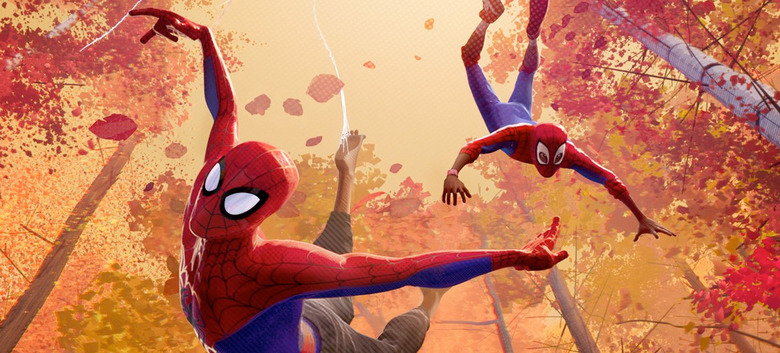 We've had three big screen versions of Spider-Man over the past couple decades, but we've never had a wallcrawler like the one we'll see in this fall's animated comic book movie Spider-Man: Into the Spider-Verse.
This time, it's young Miles Morales (Shameik Moore of Dope) taking the mantle of Spider-Man, but he's not the only one with spider-like super powers. There's still an older Peter Parker bumming around (voiced by Jake Johnson), and there's also Spider-Gwen (Hailee Steinfeld). Spider-Man: Into the Spider-Verse is taking us deeper into the comic book world of Spider-Man than any movie has before, and the movie's Hall H panel provided even more insight into what we can expect from this vibrant, stylish approach to Spidey and his universe.
A New Kind of Spider-Man
Producers Phil Lord & Chris Miller only wanted to make an animated Spider-Man movie if they could focus on Miles Morales. Thankfully, Sony Pictures said yes, and the Spider-Man story is made a little more refreshing through the perspective of somebody' else's experience.
Of course, Morales isn't supremely different from Peter Parker in some ways. He's still socially awkward, as evidenced by one scene where his newfound powers get his hand stuck to the hair on the shoulder of a blonde girl in the middle of a highly populated school hall crossing. When he can't pull it away, she tries to flip him off of her, and they both end up slammed on the ground. The only reprieve being that the hair attached to his hand needs to be shaved, leaving her with an unfortunate haircut.
Furthermore, that perspective is drastically changed by the incredible animation used to bring Miles Morales' story to life. Chris Miller said animation was the best opportunity to tell a story that actually looked like a comic book. It's as if you walked into a three-dimensional version of what you see on the page of Spider-Man comics. That includes boxes of text with inner-monologue, stylish flashes and inserts when a character smashes into something or when Spidey feels his spider-senses tingling. It's a living, breathing, moving comic book, so much that you almost expect the characters to burst out of panels. It's some of the most stunning and unique animation I've ever seen.
Miles Morales and Peter Parker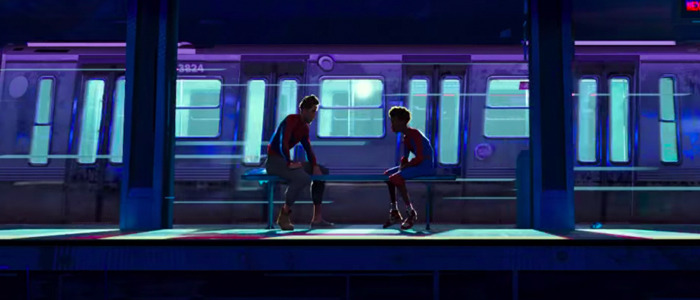 In the universe occupied by Miles Morales, the news reports that Peter Parker, the city's beloved Spider-Man, has died. Miles Morales, who seems to have already been given some guidance by the original Spider-Man in this universe, mourns Parker's death at his grave as he wears his own Spider-Man suit, that looks a little like a Halloween costume. But then someone comes up to the grave that looks suspiciously like Peter Parker in a Spider-Man suit without a mask on.
Morales freaks out, and the powers that he's not quite so good at controlling accidentally cause him to throw Parker around the graveyard a bit. Then he tries to make an escape when the cops notice this weird activity, and in a fast-paced, slapstick sort of scene they end up flying across the city after one of Morales' shots of web gets caught on a train. Cops are in pursuit, calling in a kid that appears to be dragging a homeless corpse. The comedy is seamless with the action, as you'd expect from a Lord & Miller production.
Once Morales has a beaten up, bruised Peter Parker back in his room, he ties him on a hanging punching bag. He's confused as to how this can be Peter Parker when he's supposed to be dead. After going through a series of guesses like faking his death, him being a zombie or a ghost and whatnot, he just casually throws out the idea of him being from another dimension where he's the Spider-Man of that world. And Parker is shocked when he throws that out there because it's true. Morales isn't shocked or inquisitive about this news, but is merely excited that Parker can now show him how to be Spider-Man. But how is this all possible?
It appears the big threat that Miles Morales has to deal with is the fact that Kingpin has been toying with some kind of particle collider. It has the potential to tear Brooklyn apart, and it seems as that's what have brought this alternate version of Peter Parker into the world of Miles Morales. But he's far from the only webslinger who ends up crossing paths with Miles Morales.
Spider-Gwen, Spider-Ham, Noir Spider-Man & More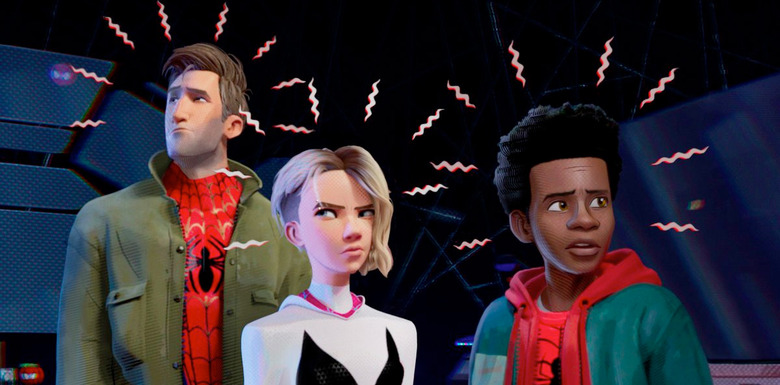 Spider-Gwen introduces herself to Peter Parker and Miles Morales after a chase through the woods. Parker is carrying some kind of container, perhaps something linked to the collider since some henchman in lab coats are chasing after them. But Spider-Gwen shows up to help them out, and she quickly reveals that she's from "another, another dimension."
Funnily enough, this version of Gwen Stacy appears to be an alternate version of the girl that Morales got his hand stuck to in the clip the first clip shown in Hall H. That could create some interesting character dynamics and comedy if Morales has trouble communicating with Spider-Gwen because of his apparent crush on the other Gwen Stacy.
After the three Spider-People have become acquainted, they're in a lab somewhere, but they realize they're not alone. That's when Noir Spider-Man reveals himself, voiced by Nicolas Cage. Then out of nowhere, Peni Parker shows up (voiced by Komiko Glenn), a character who is designed like a two-dimension anime character in this 3D world, and she has her trusty SP//dr robot with her. But the real icing on the cake is Spider-Ham strolls out with the voice of John Mulaney.
If you haven't realized it by now, this movie is going to be supremely cool.
***
Peter Ramsey (Rise of the Guardians), Bob Persichetti (The Little Prince), and Rodney Rothman (22 Jump Street) are co-directing Spider-Man: Into the Spider-Verse, which was written by Phil Lord and produced by Lord and Chris Miller. You can still watch the most recent trailer for the movie right here, and we'll have an interview with the directors up on the site sometime soon.
Phil Lord and Christopher Miller, the creative minds behind The Lego Movie and 21 Jump Street, bring their unique talents to a fresh vision of a different Spider-Man Universe, with a groundbreaking visual style that's the first of its kind. "Spider-Man: Into the Spider-Verse" introduces Brooklyn teen Miles Morales, and the limitless possibilities of the Spider-Verse, where more than one can wear the mask.
Spider-Man: Into the Spider-Verse arrives in theaters on December 14, 2018.