There Are Now Six Thai Cave Rescue Movies In The Works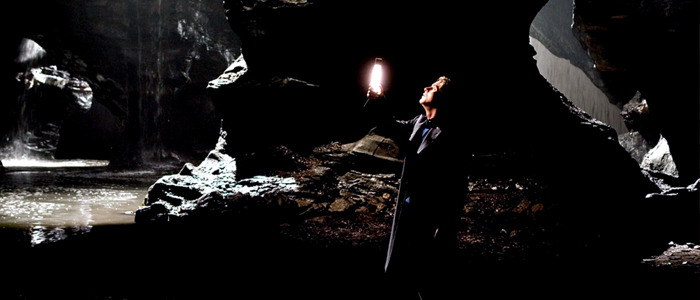 Movie-goers can't resist a true story of triumph, which might explain why there are now six new Thai cave rescue movies in the works. You read that right: six.
You likely know the story by now, even if you don't know all the details: twelve young soccer (well, technically, football) players and their coach entered Tham Luang cave in Thailand and became trapped after heavy rains flooded the cave. Efforts to save the team proved extremely difficult, and one rescuer – a former Thai Navy SEAL – died of asphyxiation. Eventually, though, they were rescued. Almost immediately after the rescue (in fact, even before it was finished), people seemed to be joking about potential movies being made about the event. But no one could've predicted there would now be six different films in the works.
It's worth noting these films aren't all big, glossy, possibly inaccurate Hollywood productions, but rather a mix of those and at least one movie from Thailand. Per Variety:
Thailand's Ministry of Culture says it expects the military government's Cabinet next week to approve the establishment of a special committee to oversee all film projects relating to the dramatic mission.
"Five international film production companies have proposed to the commerce and foreign ministries that they make a movie and a documentary about the rescue operation," Culture Minister Vira Rojpojchanarat said Thursday. At least one Thai company is also developing a film.
The government committee will be headed by the National Film Board and "include officials from the culture, commerce, and tourism and sport ministries." Rojpojchanarat added:
"The committees will be concerned about the accuracy of the story, the rights of the [team], the rescuers and other related agencies, as well as the image of Thailand...They will also be concerned about the impact of film production to the film locations. We are pleased to support both Thai and international film productions to make a movie and documentary on 'Mu Pa' [Wild Boars] if they follow Thai laws."
Meanwhile, Pure Flix, the production company that pumps out faith based films like God's Not Dead, were hungry for the movie rights to the story. This led many to worry that Pure Flix would insert a white savior subplot into the story. To head this off, Crazy Rich Asians director John M. Chu announced he would be making his own Thai cave rescue film.
I refuse to let Hollywood #whitewashout the Thai Cave rescue story! No way. Not on our watch. That won't happen or we'll give them hell. There's a beautiful story abt human beings saving other human beings. So anyone thinking abt the story better approach it right & respectfully.

— Jon M. Chu (@jonmchu) July 11, 2018
Chu's film will be released through Ivanhoe Pictures. But wait, there's more: Variety also adds that DeWarrenne Productions, headed by Thai-Irish producer-director Tom Waller, is developing a movie as well. "The kids had no idea that the world's eyes were watching," Waller said. "They even assumed they would have to ride their bikes home when they got out of the cave."
No word yet if any of these films will feature a cameo appearance from Elon Musk.