Jason Clarke Joins Helen Mirren In HBO's 'Catherine The Great' Series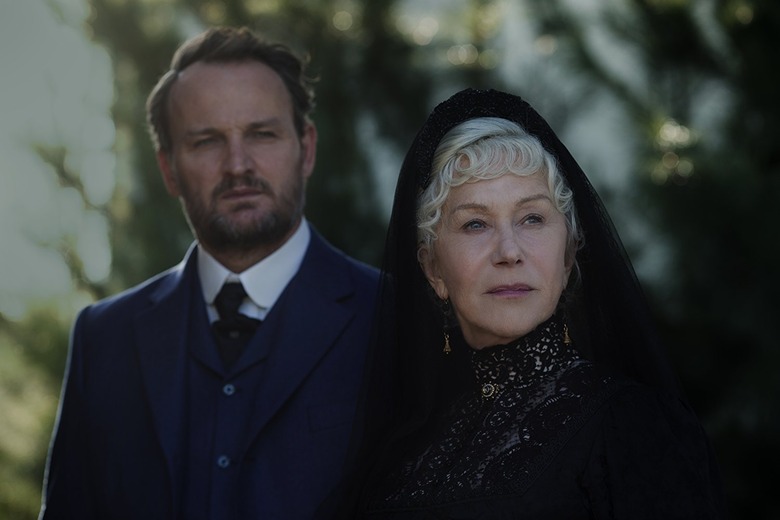 Jason Clarke and Helen Mirren will reunite for an HBO/Sky limited series centered around Catherine the Great. The Catherine the Great series cast now includes Clarke (Zero Dark Thirty, Dawn of the Planet of the Apes) starring opposite Dame Mirren, who had already come on board to play the long-reigning Russian empress.
Written by Nigel Williams (Elizabeth I, Wodehouse in Exile) and helmed by BAFTA and Emmy-winning director Philip Martin (The Crown), the still-untitled four-episode series will chronicle the final years of Catherine the Great's politically tumultuous and "sexually charged" reign over the Russian court in the late 18th century. Mirren plays Catherine, while Clarke will play Grigory Potemkin, a Russian military commander with whom Catherine has a torrid affair. Potemkin goes on to become her favored statesman and a life-long friend. It will be the second time Clarke and Mirren have worked together; they recently co-starred in the 2018 horror film Winchester.
Here's how Deadline describes the series:
Amid scandal, intrigue and immense conflict, they develop a unique and devoted relationship, overcoming their adversaries and together serving as the architects of modern-day Russia.
Catherine the Great was a legendary figure in history, reigning as Empress of Russia from 1762 until 1796 — making her the country's longest-ruling female monarch. Her reign was a time of vast territorial expansion and artistic flourishing, but great poverty for the majority of the country. But she was a woman ahead of her times — intelligent, ruthless, and sexually empowered. Which will be a wonderful, juicy role for Mirren to chew on following a spate of diverse roles ranging from period pieces (Trumbo), to quirky indies (The Leisure Seeker), to action blockbusters (The Fate of the Furious). One thing you can say about Mirren: she'll always surprise you — and look good doing it.
Mirren also executive produces the limited series, alongside Origin Pictures' M. Thompson (Woman in Gold), New Pictures' Charlie Pattinson (Elizabeth I), and Philip Martin. She also has a few other projects in the works, including Disney's The Nutcracker and the Four Realms and a con man film called The Good Liar. Clarke, who recently starred in Chappaquiddick, has Damien Chazelle's First Man and the remake of Stephen King's Pet Semetary on the way.