Does 'Unfriended: Dark Web' Have Two Different Endings Playing In Different Theaters?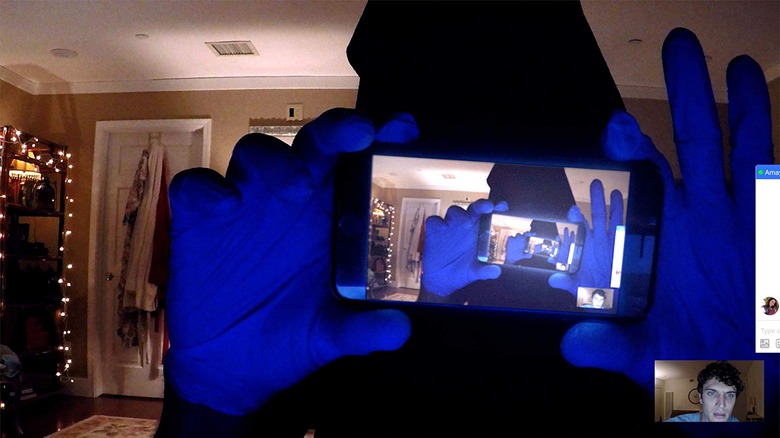 You may have to see Unfriended: Dark Web twice. Not because the Blumhouse horror film will be difficult to absorb or because there are multiple layers to the Unfriended sequel, but because there are allegedly two different endings. And both of them will be shown in theaters.
Reports sprung up earlier this week (via Bloody-Disgusting) that there are two separate Unfriended Dark Web endings that will be screened in different theaters. The reports stemmed from an image of a list of instructions for projectionists screening the film that came with an unusual warning: "PLEASE NOTE THIS FEATURE HAS TWO DIFFERENT ENDINGS."
In a really weird turn of events, Unfriended: Dark Web will have not one but two separate endings in theaters. pic.twitter.com/jqaqHmqYAZ

— rob trench (@robtrench) July 13, 2018
According to the note, the "Ending 1" version of Unfriended: Dark Web clocks in at 1:32:22 while "Ending 2" runs for 1:31:55. So is there a possibility that one of them will be a happy ending while the other is much more dire? With Blumhouse, who knows?
We contacted the studio about these reportedly separate endings, but they refused to comment. However, Inverse got in contact with the cast of the film, who stated that they only know of one ending.
"As far as we know there's only one ending," Colin Woodell (who plays Matias) told Inverse. Woodell's description of the final scene matched the one that screened at festivals, but did remark that director Stephen Susco did shoot several versions of the film — leaving open the possibility that Blumhouse could have stored a second, secret ending. "This is the weirdest thing about this film," Woodell said. "We filmed so much stuff and did so many reshoots. So many cooks in the kitchen weighing in. A lot of the stuff we filmed, I'd hear from Stephen [Susco, the director,] one month we're keeping this in and another month saying not anymore. So things have constantly been changing and I think they've been changing even a few weeks ago."
However, there may be some truth to these early reports. A Twitter user reported seeing two different versions of Unfriended: Dark Web displayed on his movie app.
@TheInSneider @ReillyAround Looks like those reports were definitely true. pic.twitter.com/G8xv2ov52i

— Steven Len (@HereIsSteven) July 19, 2018
This is not a new tactic for movies. In 1985, Clue pulled off the multiple endings gimmick, famously building buzz by screening three distinct endings for the film to be shown in theaters. The outrageous stunt was so beloved by critics and audiences that it helped elevate the movie to cult status, and sent fans into a frenzy over a mysterious fourth ending. But since then, not many films have screened alternate endings in theaters — though many horror films offer secret or cut endings as special features.
Unfriended: Dark Web hits theaters on July 20, 2018.
After finding a laptop, a young man goes online to play a game with five of his good friends. He shows them a mysterious folder that plays disturbing videos of people who appear to be in danger. They then receive an anonymous message that tells them they will all die if they disconnect or call the p
olice. The planned night of fun quickly turns deadly as each user becomes the target of something sinister while the others watch helplessly in terror.